OK, so the general consensus is that the Russians marked their captured rifles. The most prevalent and commonly found "Russian Capture" proof is an "X" stamp somewhere on the receiver, usually on the left near the serial number, but also occasionally centered at or near 12 o'clock someplace. The size and shape of the mark varies widely, from a faint partial stamp to a deep clear "X" in a Times Roman or similar font. I've also seen stamps that appear to have been done with the corner of a chisel or a flat tool of some sort, 2 intersecting marks. Here are a few of mine, and a Google search for "mauser k98 russian capture markings photos" will find you many more examples.
So some of you are thinking "Gunhorde - you idiot! You've created an RC German Mauser thread in our beloved Mosin-Nagant Forum!"
Not at all, there's a method to my madness.
I've started out this thread to show the variety of "Russian Capture marks" specifically highlighting the "X" stamp commonly found on captured German rifles.
And then there's THIS:
Seems a little odd, right? "Wait a second, THAT'S not a German Mauser...."
Correct. It's a 1943 Tula M91/30 with an 1895 Izhevsk receiver.
It gets better - it's got a blued bolt.
From everything I've been reading online, these blued bolts are "generally" attributed to German captured rifles.
The bolt appears to be original to the barrel, the Cyrillic prefix and numbers match the shank markings:
While not identical in font, the size and shape of the bolt serial # appears to be correct.
The buttplate looks good too: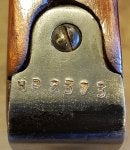 The magazine floorplate is a lined-out renumbered piece, but the lined-out number here is interesting. It's of a smaller font atypical for Russian stamps, and appears to be similar to renumbered floorplates associated with German captured Mosin-Nagants. The Cyrillic matching restamped serial number appears to be correct Russian refurbished.
The receiver is an 1895 Izhevsk, re-stamped at Tula in 1943.
So, my question is - Is this possibly a German captured, Russian re-captured M91/30?
There's a small CAI import mark on the underside of the barrel just behind the front sight base.
I have another "recaptured" rifle, my 1940 Tula M91/30 with Latvian proofs "F.L.P. Mi." - which is also a matching refurbished rifle, the Latvian proofs are lined out but clearly visible.