Hello everyone, I have a few rifles for sale to fund a boat purchase. I accept PayPal (preferred) and postal money order. Prices include shipping FYI. First "I'll take it" in this thread gets it, no exceptions.
1. Swedish M96, excellent condition, 1922 dated CG receiver. Rifle is all matching with an excellent bore and will be extremely hard to upgrade this rifle. Not as many rifles made this particular year. I will include several Swedish marked front sights for you to dial the rifle perfectly to your point of aim. Rifle is
SPF to Gustro79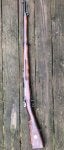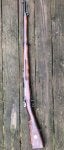 2. Russian 1951 dated Tula SKS. Rifle is excellent with all matching numbers and excellent bore.
SOLD
to 3ngineer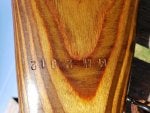 3. 1945 dated DOU K98, excellent condition. This rifle has excellent bluing, crisp unpeened markings, and a mint bore. This is a RC rifle and I have added a sight hood and cleaning rod. I will get photographs after work today. Bolt is electropenciled matching, stock is stamped matching. Wood is free of cracks/arsenal repairs. This is a nice very late war rifle
SOLD to Hwacha