Discussion Starter
•
#1
•
Hello all,
I'm new to the forum so go easy on me.
I am looking to get my first rifle, and right now I'm looking at a Weatherby Vanguard and a Sako 85. Both are chambered in 30-06.
The Vanguard I think is from the 70's, I don't know the exact year, but it has a low serial number of 0013, and it's in great shape (looks like only had about 10 rounds through it). I can get it for $400. Included are some pictures of it.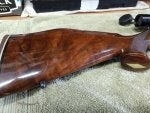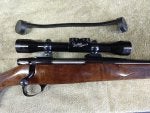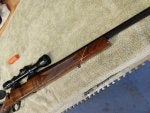 The sako 85 is much newer and much more expensive (I think later 2010's at $1,650). It is also in great shape and I don't think it has ever been shot before. Below is the link to the Sako. (the "sale pending" next to the price is my pending purchase, although nothing so far is final)
https://www.gunsinternational.com/guns-for-sale-online/rifles/sako-rifles/sako-85-bavarian-in-30-06.cfm?gun_id=101435881
.
I will use the rifle for target shooting, some deer, wild pig, and maybe elk.
I'm just wondering what your thoughts are on these and which you think would be a better buy (maybe from a collector's perspective too). I'm not super concerned with the price, but I'm wondering if the Sako is that much better or has that much more value.
Thanks,