Type 2 Grenage Launcher
Topic: ​
Topic author: 45Auto
Subject: Type 2 Grenage Launcher
Posted on: 08/02/2007 3:37:09 PM
Message:
Mounted on Type 99 rifle:
​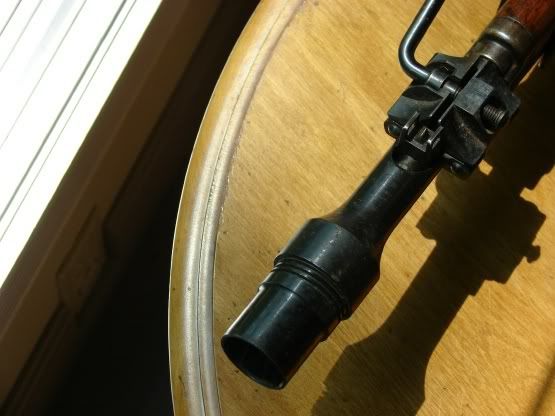 ​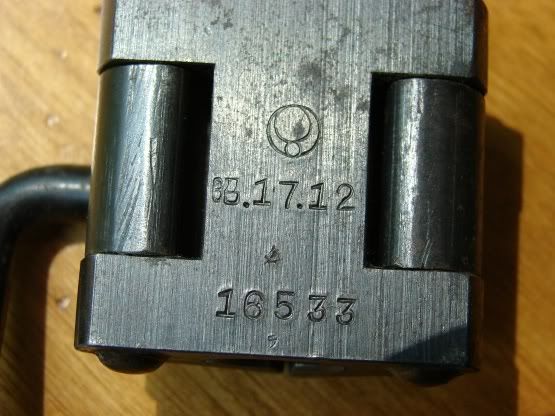 ​
This is the only grenade launcher I have ever had. One of my friends has been bugging me to trade this to him. Are these hard to find? What is the approximate value of these things?
​
Replies:
Reply author: Vicasoto
Replied on: 08/02/2007 3:54:27 PM
Message:
Hello Greg:
For a long time launchers have remained static due to their scarcity. It has been years since one was offered on the net, worth is pretty much whatever someone is willing to pay. Sure friends have their own worth, but if you really want to maximize your profit offer it at any of the major internet sites. In my estimation it is worth easily 700 to 1000 Dollars, specially in the condition yours is in.
Vicasoto
​
Reply author: BradB
Replied on: 08/02/2007 5:54:47 PM
Message:
1. You would never find another in that condition.
2. Vic is right on price... I would venture more towards $1K+
3. I doubht what your friend has offered to trade you is either as rare or as valuable
​
Reply author: Edokko
Replied on: 08/02/2007 6:22:03 PM
Message:
I'd say it can bring over $1,500 on auction, especially a rare early marking variation like this. You should get Greg Babich and Tom Keep's grenade launcher book and read up on the history and variation of these things. Of course once you get the book, not only will you no longer wan't to let go of the device, but you will be seeking for more.
​
Reply author: 03man
Replied on: 08/02/2007 7:36:18 PM
Message:
Beautiful launcher, very scarce.
​
Reply author: 45Auto
Replied on: 08/02/2007 11:03:35 PM
Message:
Thank you for the information!
You guys make this a great forum.
​
Reply author: Mike Rockhill
Replied on: 08/02/2007 11:10:41 PM
Message:
I would not sell this one. As mentioned it is a rare early (showa dated, and nagoya logo marked) and worth at least $1500 to someone who knows what it is. Later and more common ones are date coded and have encoded arsenal marks as well.
​
Reply author: jarjarbinks11
Replied on: 08/03/2007 12:37:29 AM
Message:
one was offered on gunbroker last year for sale. it was a date coded variation and started at $500 in very good condition. it never got a bid so it ended and was not relisted. still kicking myself for not jumping on it. another one for the 38 rifle was auctioned off on auction arms a few months ago. it sold but was not in very good condition. cant remember the price though.
​
Reply author: pacific-war44
Replied on: 08/03/2007 01:50:02 AM
Message:
A buddy up the road,listed here as P3skyking,had one nearly identical on a 38 carbine,mummed and matching,walk into his humble pawn shop last year,and swapped a $300 .38 pistol to the owner for the whole rig! I nearly fainted when he handed it to me. He's turned down $1800 for the rig,as he already has an extensive Japanese collection,so he knows what it is. This is only the second one like this I've seen on here,and I been on here a long time,heh. Keep it and watch it outrun inflation in terms of investment,like having a Treasury Bond that you can hang on the wall!
​
​
​
​
​
​
​
​
​
​
​
​
​
​
​
​
​
​
​
​
​
​
​
​
​