Edited, now with range report.
I seem to have an Enfield problem. Less than 2 months after my 1st, I got another.
This time it's a Longbranch no 4 1/3. I'm more interested in
WWI than II, but I could not let it get away.
The only import mark I can find is "England" on the butt socket. It also has nitro proofs on the end of the barrel. It looks unfired since it was FTRed. For $299, I'm pretty pleased.
So I took my Enfields to shoot for the first time today, and I found out I didn't bring enough .303. I'm not sure how I have lived without an Enfield up til now, but it must have been a terrible existence. The no4 shot well for me, although a bit low. I used the ladder, set at the lowest it would go. This was probably mostly due to shooting at 50yd.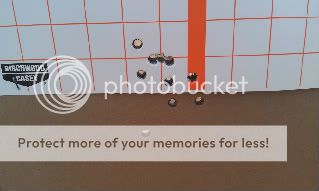 The real stand out though, was the no 1. I was pretty sure the no 4 would shoot well being in such nice shape. I was totally not expecting the no 1, with its obvious wear to shoot BETTER. The group below was a 150gr Sierra sp over 38gr of IMR 4064.