You might ask, "what's a Pong 5; some kind of video game??" I wouldn't blame you if you did because this thing is pretty obscure. But no, it's not a video game. The PON-5 (Optical Night Sight-5 in English) is an obscure 1990's Russian made, compact, lightweight, night vision optic. Those of you that are aware of this unit already know that there is pretty much zero information available online. If that's you, you're probably going to enjoy what follows. If you're one of the vast majority of people who have no idea what I'm on about, read on because you might enjoy this too.....if you enjoy my usual articles that drone on and on about the smallest details of the most mundane things. The entirety of this article will consist of several posts so check back in over the next several days for all of it. I'll let you know when I've finished. Okiedokie, let's begin, shall we?
Below is the topic of this article, the PON-5, along with some of the kit it originally left the factory with back in 1996: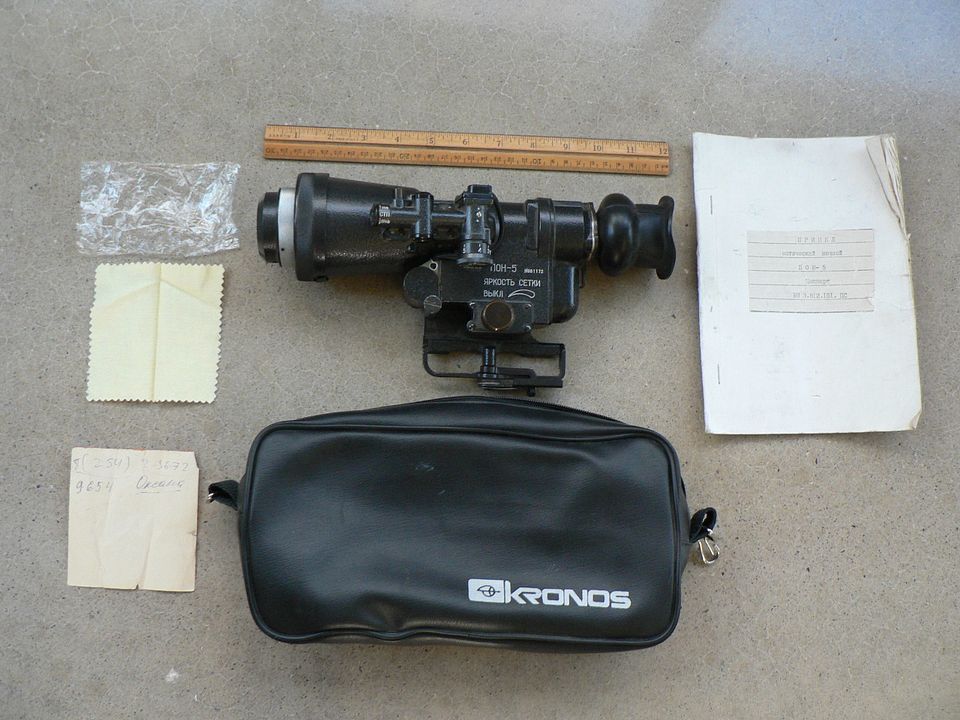 Although this unit was designed for the Russian military, this picture shows it was clearly also available on the commercial market. Although the carry bag is a strong indicator of this fact, it will become abundantly clear when we look at the manual. So, what are we looking at here? Starting at the top left and moving down, we have a plastic bag for storing the lens cleaning cloth. Just below that is said cloth. Below that, we have a piece of paper that was folded up in the bag with the lens cleaning cloth. It has cyrillic writing on it that I am clueless about. At the middle top is a 1' ruler I put in the shot for scale with the scope and it's carry bag below. At the extreme right is the rather tattered manual. It's numbered to the scope so I know it's the original. Although this entire kit has clearly seen very little to no use, the manual looks rather rough because, to put it bluntly, it's made of very low quality paper and card stock. I mean, it's laughable. Fortunately, the scope itself seems to be as robustly made as any Soviet era unit I've encountered.
The lens cleaning cloth and its storage bag: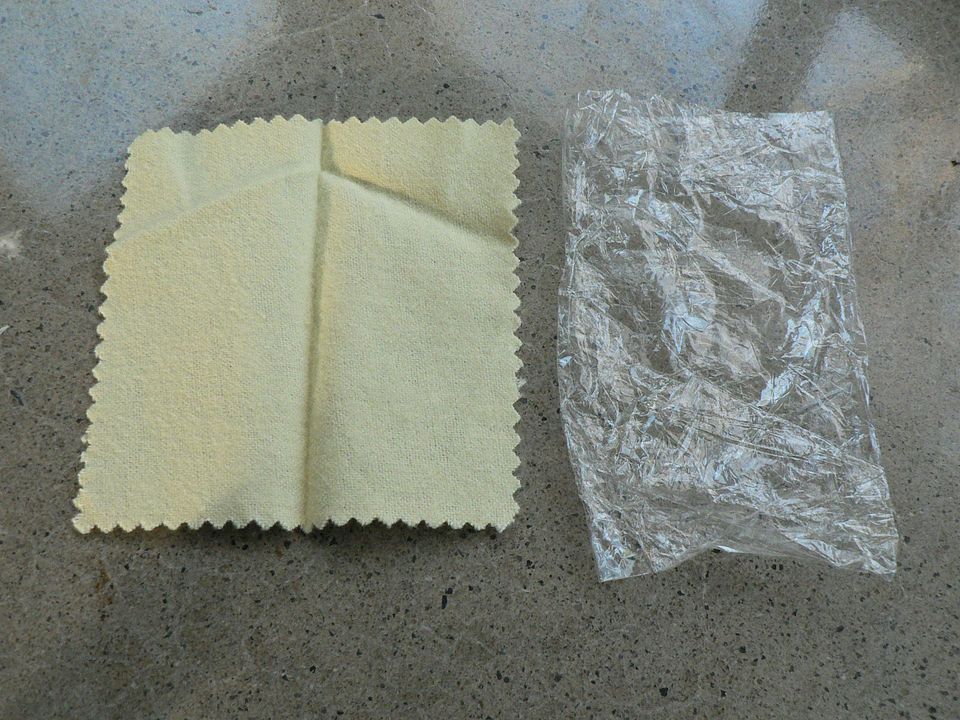 Not much to say here other than it's a yellow cloth used to wipe down the lens in a pinch. Best to leave it in its bag for posterity and use something else of known Quality. Does anybody use the cloth that came with their optic? I don't.
The mystery piece of paper that was also in the bag:
Whether this came with it from the factory or somehow made its way in there over the past 26+ years I cannot say but I assume it's the latter.
Logo on the bag:
"Kronos" was/is one of the commercial trade names used at that time by the Zagorsk Optical Mechanical Plant headquartered at Sergiyev Posad, just outside Moscow. They've been making both military and civilian optical equipment since the 1930's and they're still at it today. They also go by "ZOMO" in some markets.
Inside of the bag:
The bag is made of a heavy duty leatherette lined with a felt type material and is reinforced at stress points by welting. It's not fancy but it is sturdy.
Detail shot of the zipper pull and an attachment point for a shoulder strap. The strap, if ever present, is now missing.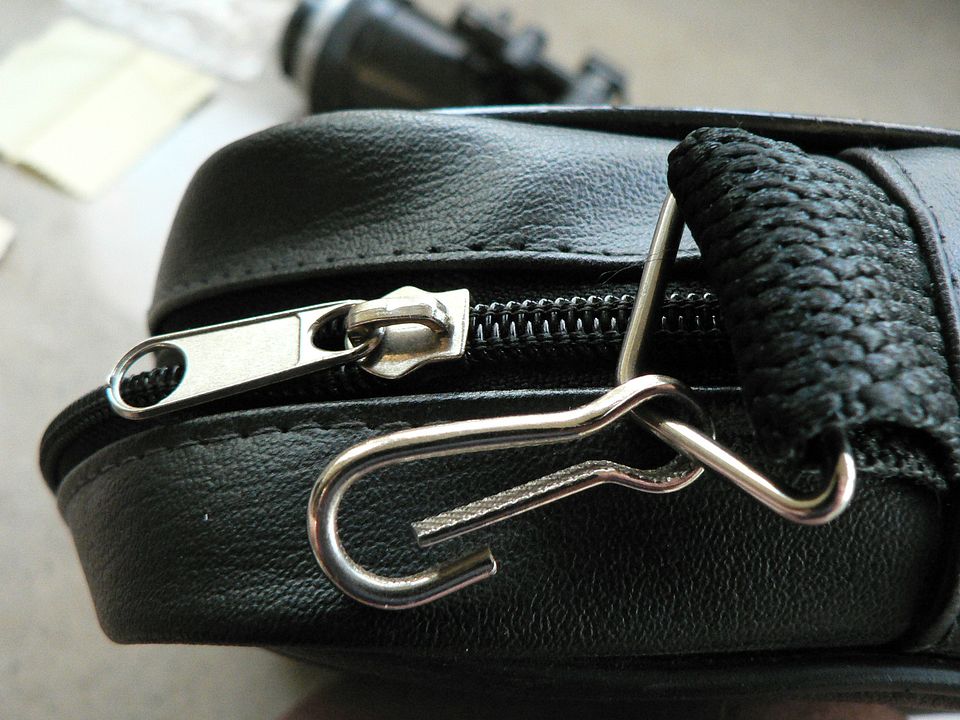 The other strap attachment point: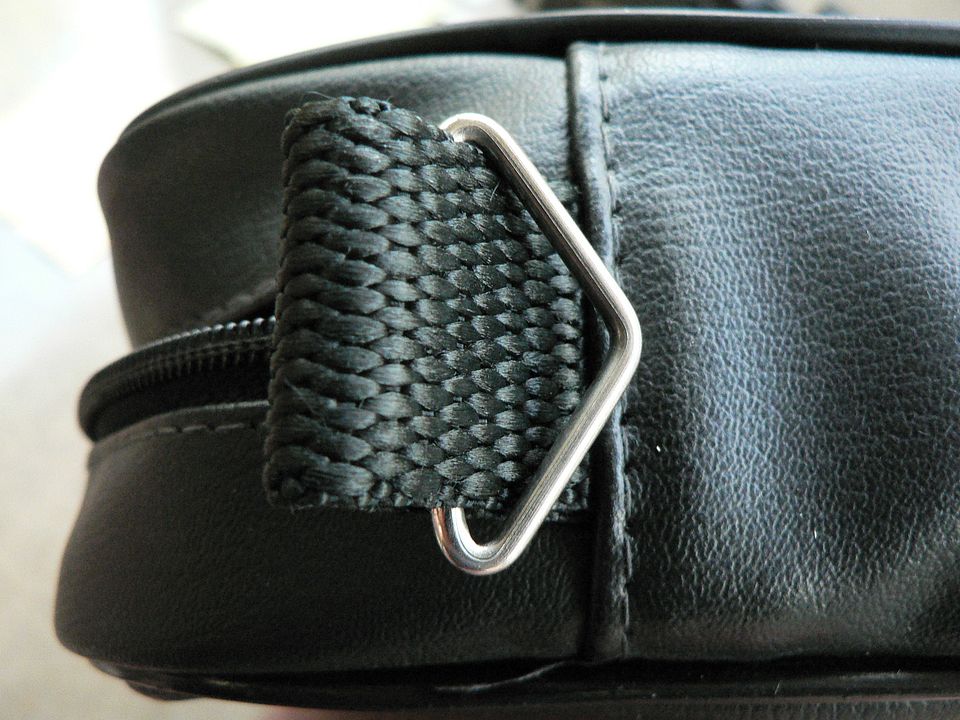 A general left side view of the scope itself: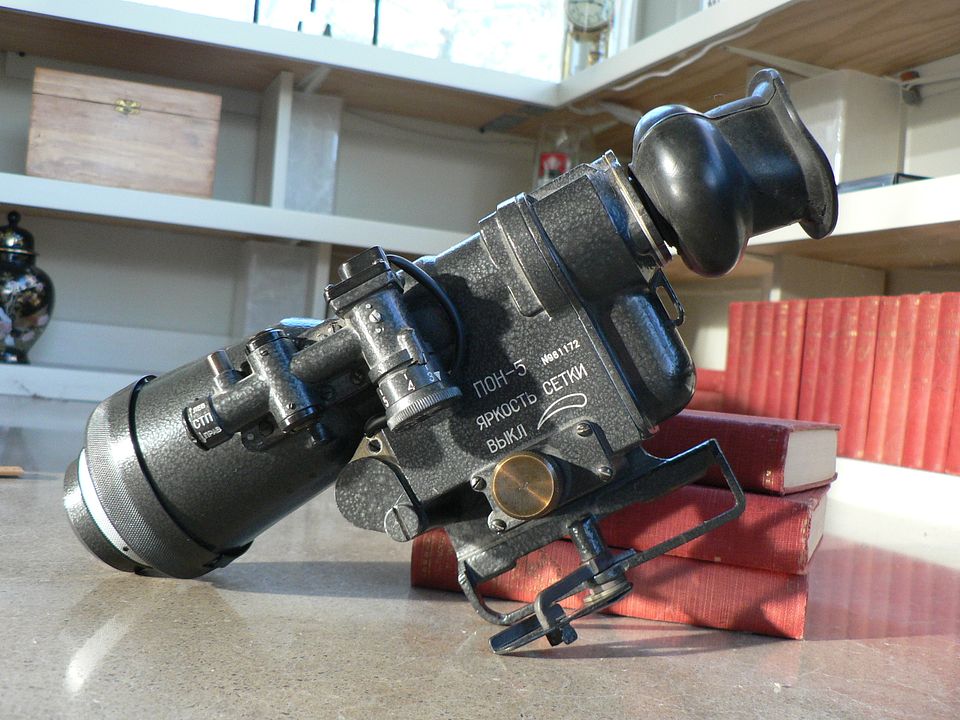 So, what are we looking at here? Lots of neato things. If you're not familiar with Soviet/Russian NV optics, this might look complicated but it's not, I assure you. You have to remember that it was designed for infantry use in combat. To that end, it's simple to use, robust and generally efficient in its adjustments. At the moment, I'll just introduce you to what we're looking at in the most general way. Later, we'll l go into detail on each feature as we look at it more closely.
-- To the left of frame is the objective lens. Currently, it has the light filter or diaphragm in place. This is used to regulate how much light is allowed into the unit during use in daylight or dusk. Too much light will destroy the internal image intensifier while too little will not allow the unit to properly define the image. We'll get into that later.
-- Moving toward the rear, we come to a roughly "T" shaped thingee hanging on the side of the body. That's the windage and elevation adjustment mechanism.
-- Below that, we see a flat head screw. That's the locking screw for the battery compartment door.
-- The bronze/tarnished brass looking knob is the on/off switch and it also adjusts reticle intensity.
-- Below that is the clamping mechanism used to hold the unit fast to the scope rail on the rifle.
-- The main body of the unit is where we see the writing. Inside there is the intensifier tube and electronics.
-- The entire unit is made of some type of nonferrous alloy and is covered in a very durable dark grey hammertone paint. This was the preferred finish for Russian/Soviet optics going back decades and it varies from a light grey to almost black.
-- At the far right of frame is the rubber eyecup covering the ocular lens.
General right side view: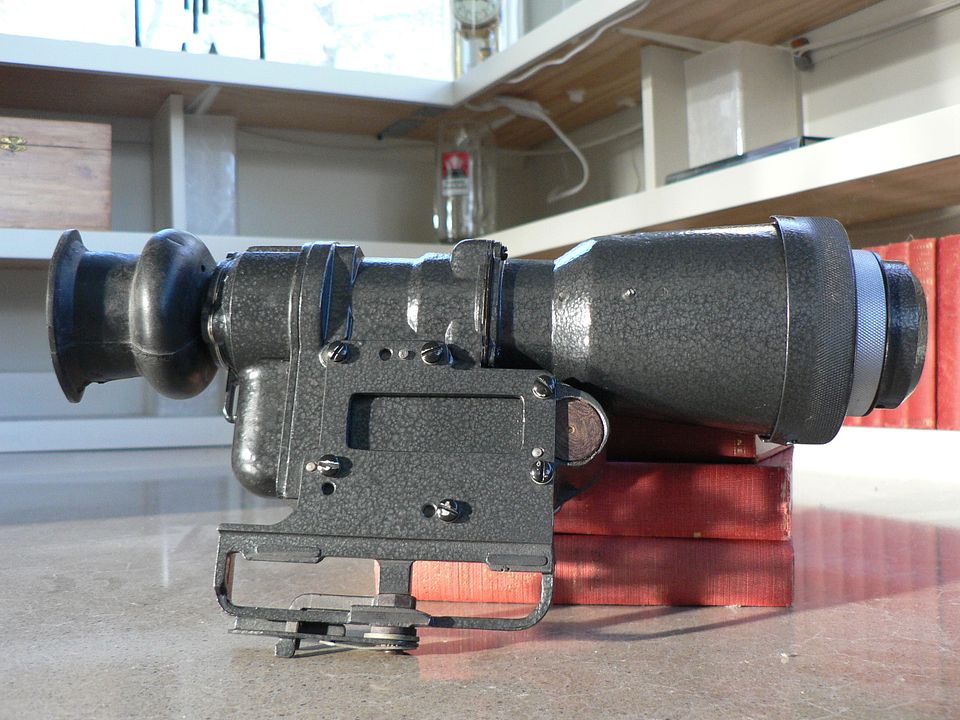 Notice that there are six flat head screws in a roughly rectangular pattern on the main body. These attach the clamping mechanism to the scope body. In this way, the clamping mechanism can be removed and replaced by another mechanism for mounting on things other than a rifle. Normally, they are never removed though as the intended mounting clamp would be installed at the factory during manufacture thus mating the unit to a particular class of weapon (e.g. rifle, machine gun, whatever else crazy Ivan dreamed up to use it on).
Alrighty, that's enough to get started. In the next installment, we'll begin looking at things more closely and I'll tell you my thoughts on the what and why of the various bits. I say "my thoughts" because you have to remember, other than a few "look at what I have" pictures online, there is literally NOTHING out there for research purposes and there are probably no more than a handful of these units in the United States. What I'm typing in these posts is going to be pretty much all there is as of this date. So, I can only tell you what I see and think based on what I have in front of me and extrapolate from my personal experience with a number of other Soviet and early post Soviet units I've been fortunate enough to play with and take to the range over the years. As such, I can't absolutely guarantee that I'll get it all right but I can promise you I'll do my best. With that, I'll sign off for the night and I'll see you back here soon. Thanks for joining me!