Well, after several months (moving and contruction of the new garage) I have finally gotten to go out and play with my K98k LSR repro. The gun started off as a Post War Czech gun from Samco that arrived in near mint condition. I added a stock from Mario, an LSR rig from Coles, and a repro safety and checkered cupped buttplate from I/O. The gun was sent to Apfeltor to have the base mounted, and then a friend of mine here glass bedded the action and smoothed out the trigger.
The other day I went to the range with an assortment of handloads using SMK 175g and 170g Hornady RN. Powders used were IMR 4064 and IMR 3031 from various loads I found similar on Reloaders Nest. I didn't have a chrono, but the gun seemed to favor 4064 pushing the Hornady RN bullets so I loaded up some more and went back on Wednesday (armed this time with a chrono).
The load used Remington brass, CCI 200 primers, 40g of IMR 4064 and the aforementioned 170gr Hornady RN bullet seated to the cannelure and slightly crimped. Velocity ran right at 1875fps which is a good bit slower than I was wanting, but with a hunt to go on the day after Thanksgiving, it's what I had to work with. No problem, really, since a 100 yard shot at this property will be pushing it anyway.
It took me damned near 20 rounds to get her right, and she stayed pretty consistant the whole time. The final two dial in targets are below. Both came in right at or just under 1", and pretty much all of the groups that I fired with this load were consistantly in the MOA range. I really need to replace the trigger though, because it is not consistant, and simply drives me crazy. I think the groups would shrink with that modification alone.
Hopefully, I'll have some pics with blood next week when I come back.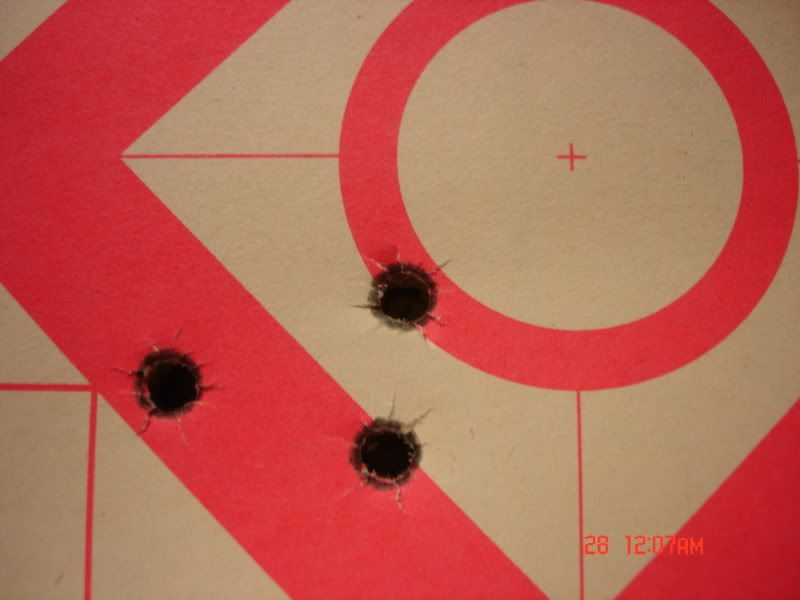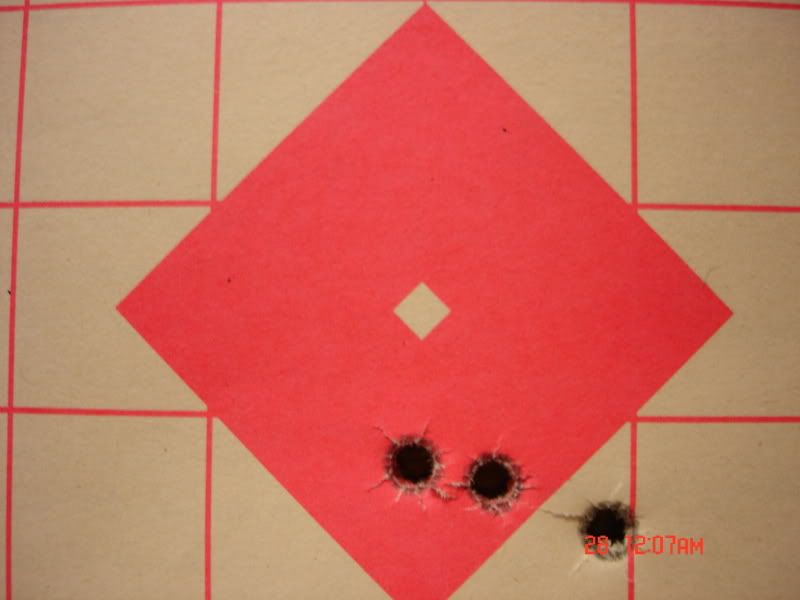 Saleen