Discussion Starter
·
#1
·
Over the last several months I have acquired several shotguns. The wife and youngest daughter keep trying to steal my sweet little Winchester 140 auto in 20 Ga. that I have set up for Sporting Clays. The first is a High Standard Deluxe auto in 20 Ga. I shortened the LOP to 12 5/8" (they are both fairly short) and will be porting the barrel and adding screw in chokes.

The second is a Remington 1100 also in 20 Ga. and it to has the shorted LOP. It will also be ported and have screw in chokes added.

The third is a Nornico copy of a Winchester 1897, 12 Ga. I got this one NIB an is now my home defense shotgun.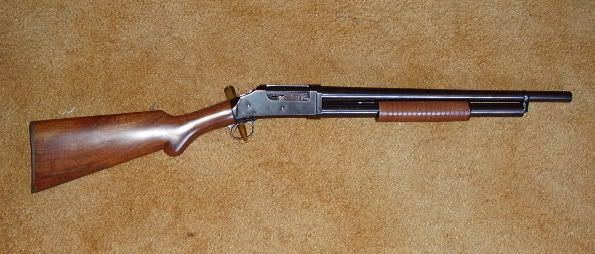 Then Thursday, 4-22, I went to lunch with my buddy Randy, Sure Shot to you Marlin Collectors and he gave me a Savage 24 Series P in 22 WMR over a 20 Ga. I've been looking for a 24 in in 22 WMR/ 20 Ga. and one on 22 Hornet/20 Ga., so I'm half way there. I am refinishing the stocks so no pictures yet.