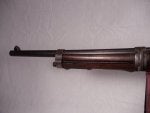 I recently purchased this unmodified Chatellerault Model 1892 (Berthier Carbine Model 1892). Some of the serial numbers do not match, but have heard this isn't uncommon. Hoping someone may shed some light on this carbine for me and what exactly the proof marks mean (see full list of questions below). Unfortunately I was only able to include 12 pictures, but if you would like to view additional pictures, I have an online album through Google at:
https://plus.google.com/photos/1089...s/5712035161950149121?authkey=CM-lqIiv2p3wjwE
I also have a video available on my youtube channel, you can watch video here:
http://youtu.be/JnJ-DuIz0Is
Some of my main questions include:
1. What is the value of the gun in current condition?
2. Is this an un-modified original carbine from 1895?
3. If it hasn't been modified, does that make it more rare and collectible?
4. What does the proof marks mean on the left receiver (C -- C (circled) -- V (circled))?
5. What does some of the proof marks (besides the two "E's" and the "7") mean on the bottom of the barrel/receiver?
6. How many of these carbines were produced?
7. Has anyone successfully fired any Prvi Partizan out of their non-N marked rifles?
8. Was the bolt replaced?
9. What does the proof marks on the bolt mean ("S" inside a diamond and "31")?
10. Since the floorplate has a different serial number, can it still be verified that it was made at Chatellerault since the serial number is proceeded by a "B"?
11. Why would the stock not have a serial number?
12. What does the punch markings inside the stock mean (N 127)?
Any other information or history that can be provided on this gun?