Just thought I'd post some pictures of my newest toys. Most of them are built off of excellent condition Romanian 'G' kits, all use G2 double hook trigger groups and Global Trades receivers unless noted otherwise. These were all built by myself with some assistance with my friend who runs Elk River Tool & Die and specializes in building AK rifles.
First off is a Chinese side folder built on a 1.6 receiver, the rear trunnion and furniture are Chinese, the front trunnion and barrel are Romanian since thats all I had available (odds of findind a Chinese front trunnion and barrel assembly not already attached to another rifle I figure are pretty much slim to none). For US parts I used the receiver, trigger group, and magazine follower & floorplate as I wanted to keep the unique pistol grip. This is actually one of the more comfortable original issue grips I've come across, its right up there with the Yugoslavian for comfort. The side folding stock is a little short for my tastes but it locks up solidly and I can get a very good cheek weld thanks to the design.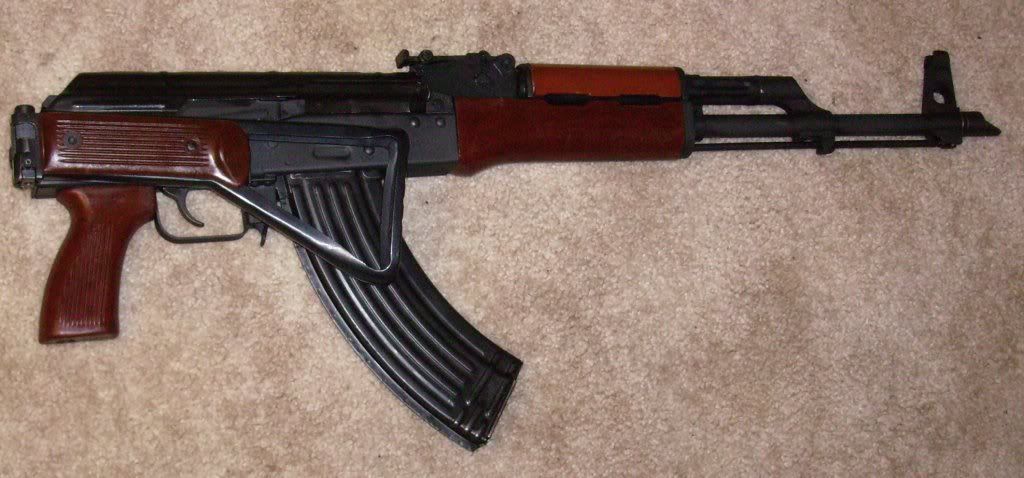 Next is an East German look-alike, built on a Romanian 'G' kit with Armory 1mm receiver. I cherry picked this kit because it was in great shape and is as old as I am (1979), thought it would be neat to have one just for the heck of it. This one I used the usual receiver and trigger group and did the magazine follower and floorplate again as I wanted to see what the grip was like, I'll probably just swap it out for a US grip and slant comp to keep things simple as its close enough and not really any different from the typical grip style. This one proved to be scary accurate, with Golden Tiger or Yugo surplus I managed a two inch group at 100 yards, I figure for an AK and with my eyes this is pretty damn good even if it was done off the bench. The white on the front trunnion is paint, decided to pick the markings on it and the top cover out after I parkerized the whole thing.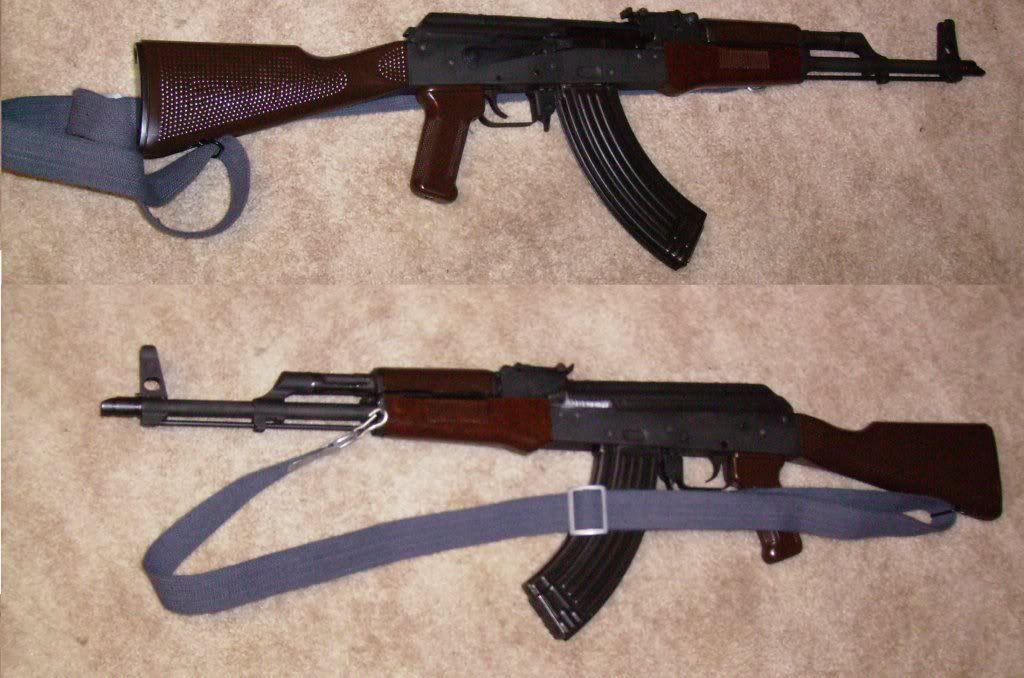 This one is a basic Romanian 'G' kit that I bought from a member here. This kit turned out to be all matching and had some of the best wood I've ever seen on these, also the lower handguard is numbered as well which seems to be atypical to these rifles. I did the same thing with the paint on the numbered parts on this one for authenticity's sake. US parts used here are trigger group, receiver, pistol grip, and muzzle nut. I went with the nut because thats what it came with originally.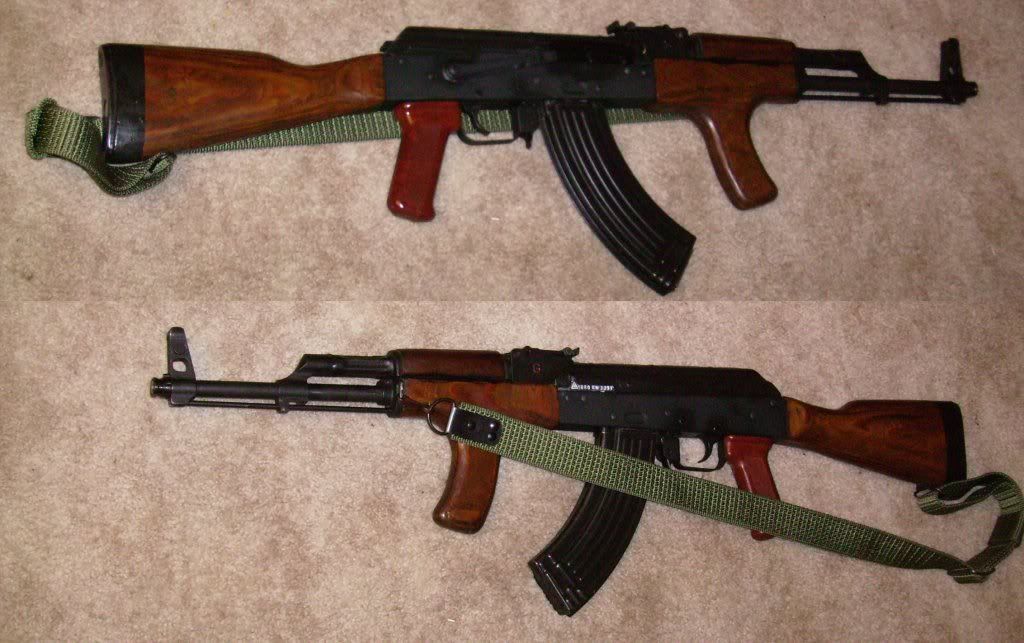 This one is another basic 'G' kit, I hand picked this kit not so much because it was in great condition (though the bore is excellent) as for the fact that it has what looks like a name and a date carved into the upp handguard, also has 'IMMR 14' painted in white letters on the left side of the buttstock. No clue what that indicates but thought it and the carvings were neat anyways. If anyone has any clue as to the meaning of the markings I'd appreciate it. US parts are trigger group, receiver, pistol grip, slant comp.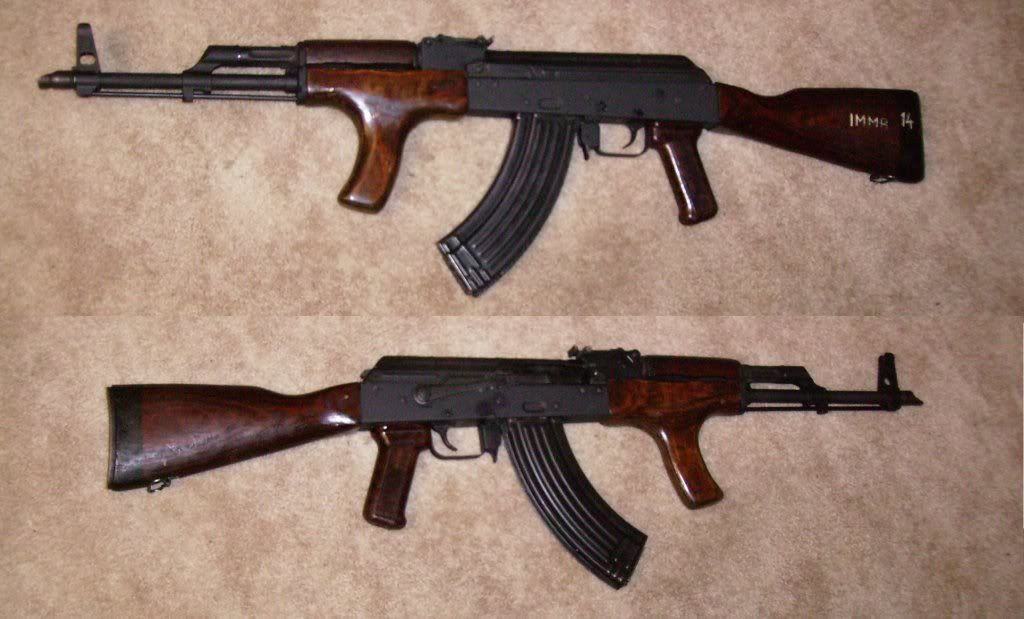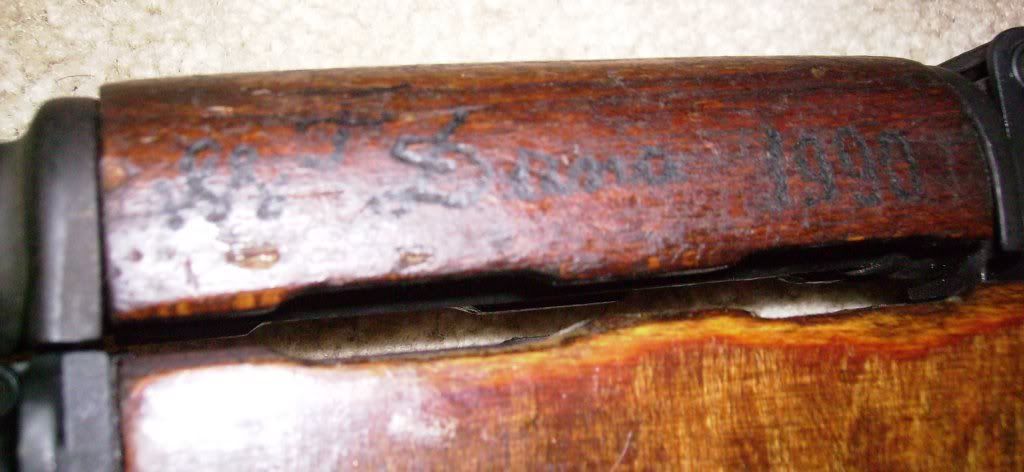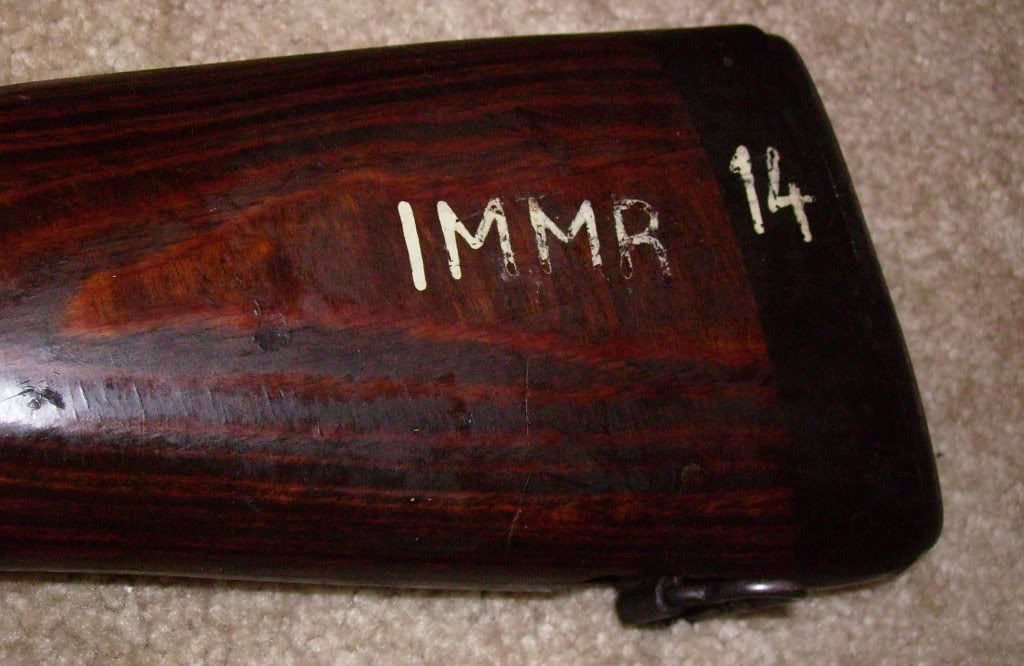 This one I decided to put a left side folding triangle buttstock assembly on just to see what it is like as k-var has one that fits into a standard trunnion and has the locking mechanism further back so you don't need to do the special trunnion and receiver modifications that you normally do. Also went with black polymer furniture just for the heck of it. I'm waiting for an AK-74 style muzzle device for this one, in the mean time it just has the nut on the end. US parts are receiver, trigger group, handguards, and pistol grip.
Finally, something a little different. This is a Yugo M70, picked this one out because though the exterior finish on the barrel was a little rough the bore itself was one of the best I've seen on a Yugo rifle and of course the carvings in the furniture are a plus [
]. If anyone can translate any of them I'd appreciate it. Built on the DCI receivers made for these, other US parts are: trigger group, slant comp, pistol grip.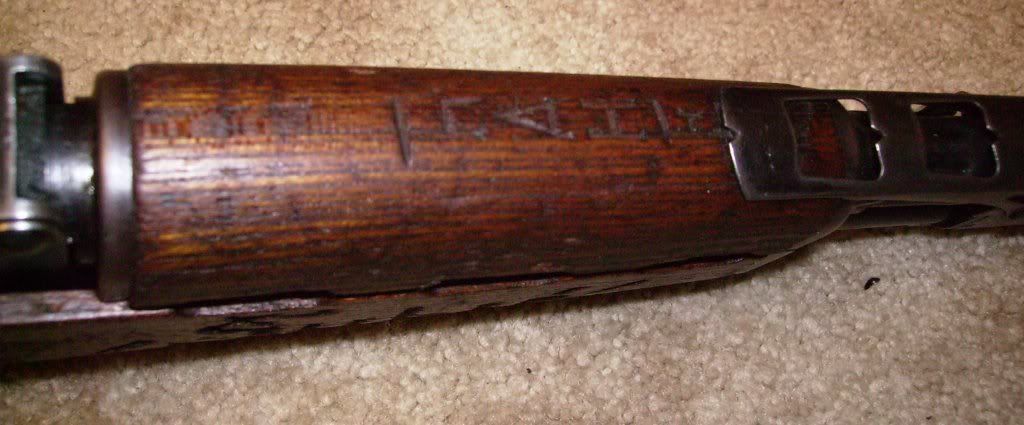 Last but not least is the AK74 I built for my little brother. He's wanted one for awhile so I told him I'd do one up for cost of parts. Turns out that my friend had enough miscellaneous parts lying around that I was able to cobble it together for a lot less than a kit, either true '74 or Tantal, would have cost him. Its sort of a Heinz 57 with a Bulgarian front trunnion, bolt of unknown origin, Romanian bolt carrier (with the proper upswept charging handle), and a virgin Romanian barrel. This one was pretty tough to put together as the barrel had to be turned down a little to fit in the trunnion and all the holes had to be drilled but it turned out to be worth the trouble as its a surprisingly accurate rifle with surplus ammo. The single-stem sidefolding stock was my brother's choice, now that I've fooled around with it a bit I find I like it a little more despite the inability to get a decent cheekweld. US parts used were: receiver, trigger group, pistol grip, handguards.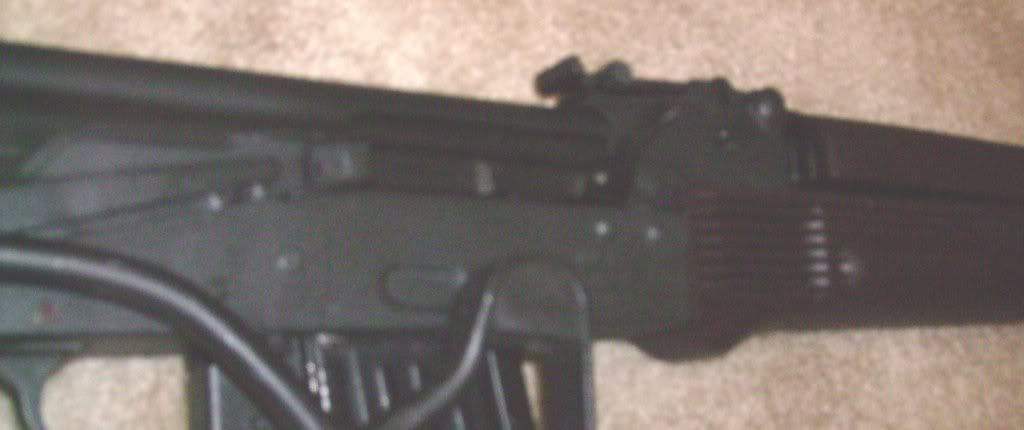 Well, thats all for now. As soon as my RPK-74 gets painted I'll post some pictures of that one too [
].