Discussion Starter
·
#1
·
In eastern Europe horses were extensively used by everyone for transport, but the USSR after disbanding 19 cavalry divisions reversed the policy. The German invasion, however, demonstrated that the Soviets had written off its cavalry too soon. Surprisingly, cavalry units turned out to be the most resistant of Soviet units during the catastrophic 1941. Not dependent on roads and fuel supplies, maneuverable and rapid cavalry could covertly push through impenetrable forests and take the enemy by surprise, organizing counterattacks or covering retreating Soviet troops.
Realizing its effectiveness, the Red Army command ordered dozens of new cavalry divisions to be established. During the Battle of Moscow in 1941-42, already one quarter of all troops defending the Soviet capital were cavalrymen.
In most cases, an open cavalry attack during WWII would have meant certain suicide. That's why the cavalrymen fought as infantry, using horses as a transport means and keeping them in a safe place when the fighting began.
However, if the demoralized enemy infantry was retreating in disorder, a cavalry attack was more than welcome. Cavalrymen could effectively finish off the opponent, cutting it with their sharp sabres, known as shashkas.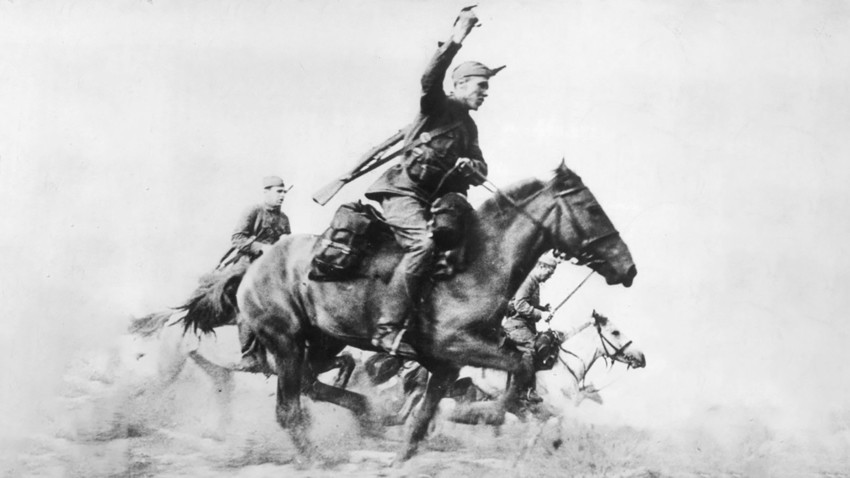 The Soviet cavalry during WWII struck the enemy in its very heart. As true saboteurs, cavalrymen made surprise raids behind enemy lines, destroying German army staff commands and storages, blocking roads and cutting vital communications.

www.rbth.com