I have reviewed most of the latest listings from the major scope mount manufacturers and the Husqvarna listings are steadily disappearing. Many of the mounts shown in the charts are long obsolete and no longer manufactured. However, old stock and used bases show up for sale all the time on the internet and the mount stock numbers for the obsolete bases should be useful in those instances. For Weaver type mounts, I am very fond of the Weaver Grand Slam and Warne bases. For new one or two piece type dovetail mounts I also like the Conetrol and S&K bases. They are expensive, but they fit. Currently, Numrich/Gun Parts has the Tradewinds 808 scope rings/mounts that were made specifically for the 1640 series of Husqvarna rifles. Pictures of the Tradewinds Esquire mounts are here:
http://forums.gunboards.com/showthread.php?t=135541
I have not included Griffin & Howe or EAW mounts because the mounts cost into the hundreds of dollars and there are plenty of mounts that work just as well.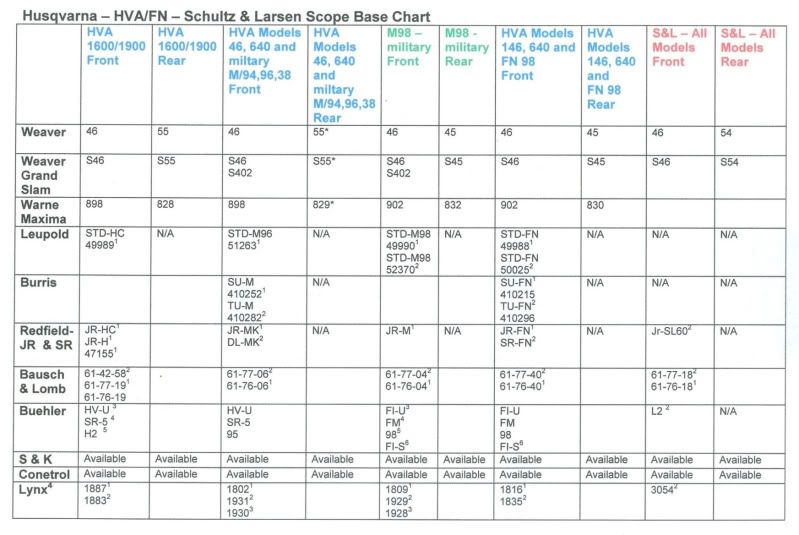 Just mounted a set of Weaver Grand Slam mounts (S46/S55) on my HVA 3000/1640 and they fit like a glove. I would expect regular Weaver mounts with the same number would fit just as well.
Ironsighter Mounts
I missed these mounts when I put the chart together. I'm not crazy about them BUT, they are solid and they solve some issues with the older HVA models, e.g., M46, 146, 640. These mounts are high enough the bolt lift and travel are unhindered, the flag safety can be used easily, and the iron sights can be used without removing the mounts. They are also still available, see:
http://www.ironsighter.com
On mine the front one is numbered, 733 and the rear mount is 734.
Obsolete Scope Mounts:
This section will cover mounts that are long out of production.
First up is the Stith Master Mount
APETURE SIGHTS -
We've had some good posts on the Swedish jaktdiopter, but they are very rare and difficult to obtain. Many of the HVA/FN98 and HVA 1640 receivers are factory d/t for American made diopter mounting hole spacing and there are several very good American made diopters available. The Lyman No.57-FN and No.57-HVA are currently made and widely available. Other current American production sights are the Williams 5D-JEMS and Foolproof 98 aperture sights. These are good sights and will serve the average hunter quite well. If you are looking for something a little more "time period" appropriate and what I consider to be some of the best diopters made anywhere at anytime, the Lyman and Redfield models in the photo are definitely worth considering.
Production of the grand old Lyman No. 48-M ended in 1947 after some 36 years and three variations. They were used on some of the Swedish target rifles of the 1920-30s and if you can find one, would still do duty on the later HVA hunting rifles. They don't seem to show up much on the auction sites and they will usually bring a goodly sum when they do. The No.48 in the photo came home from Sweden a few years ago and you can see the electropenciled meter markings put there by a previous Swedish owner.
Redfield manufactured three aperture sights that are of particular interest: No.70, No.80, and No.102, all with "M" suffix. Production on all these models ended in 1964.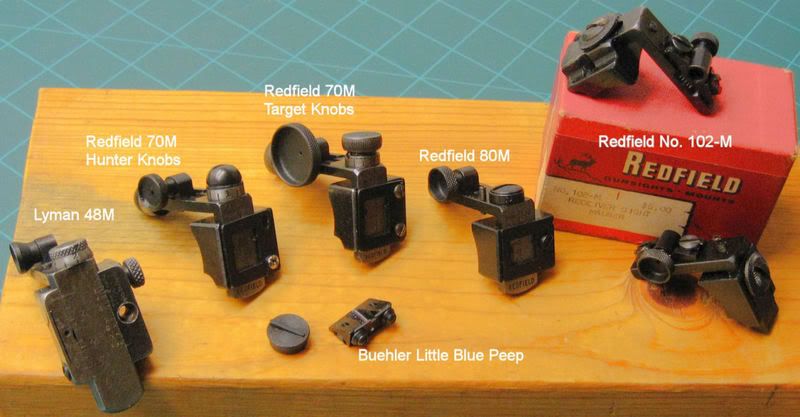 My personal favorite is the Redfield No. 70-M. They could be had with either hunter or target knobs and a variety of eyepieces. The No.70 is a very high quality all steel sight that has very good windage/elevation adjustments. I have several and I've noticed on my small sample that the target knob sights tend to be a little looser than those with the hunter knobs. This is logical because with the target knobs, it is a lot more tempting to play with windage and elevation than on the hunter knob causing more wear in the long term. The hunter knobs adjust easily, but you have to use a coin or similar to turn the knob. An American quarter (25 cent piece) fits perfectly.
The No.80 is similar to the No.70 but has a thinner mounting block, an elevation stop screw, and a quick release button to remove the staff. They are all steel and may fit the HVA rifles with little or no modification to the stock. I test mounted one on a HVA/FN98 and at least in that instance the stock didn't have to be cut.
The No.102 is a bare-bones basic hunting sight and windage/elevation adjustments are made by sliding the respective mechanisms. It will not adjust quickly and is made for setting a given zero and staying there. Although simple, it is all steel and virtually indestructible. A good back up sight to carry if your scope gets whacked.
Finally, the little thing-uma-bob at the bottom of the photo is a very cleverly made Buehler "Little Blue Peep". It was made to fit Buehler and Redfield scope mount bases and was adjustable for windage and elevation. I haven't tried this sight yet on any of my rifles, but a little range test should be very interesting. The rear blade has both an aperture and a notch, so theoretically you could use one or the other and have two known zero ranges. Although the sight radius is basically limited by the distance between the scope mounts, in an emergency and at short ranges it should work just fine.
The Redfield sights seem to show up on ebay quite regularly. I have seen winning bids ranging from $30.00 to $75.00. When all is considered, even at the high end of the price range, these sights are a bargain.
Recknagel in Germany has a line of hunting diopters that look very interesting. New England Custom
http://www.newenglandcustomgun.com
I believe is the USA distributor for Recknagel products so contact them if you are interested.