At a gunshow this weekend past, I came upon this little gem lying among a large assortment of .22 rimfire rifles. It is the first one I've seen in the wild for at least ten years or so. At that time I had purchased several of the earlier octogan barrel types from Simpsons to resell. And they did too, but before I'd had a chance to get to know them or what Model they were even. So suffering from sellers remorse for a decade plus, this one wasn't getting away.
As an aside, there were more .22 Rim Fire rifles and handguns at this show then I've ever seen ever. Any one else noticed this at the fall shows lately?
Anyway, a few pics.
BTW, the Trash Can Bandit fell to the first shot from this rifle. I hadn't even cleaned it or test fired it yet. Critter was sneaking around my barn and gave me about a forty yard chance for a head shot. When I looked later, the elevator was set at 50 meters so all was well. Not for the Bandit, but I digreas. Any more of these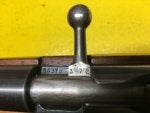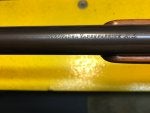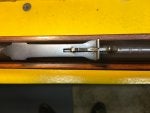 out there making a man smile?
Thanks for looking.