DISASSEMBLY OF THE SWEDISH ELIT DIOPTER
Why disassemble? Two reasons: First to clean, lubricate and refurbish; Second to change elevation rings. Or, as in my case, to clean, lube and refurbish AND an insatiable desire to take things apart!!
This disassembly procedure removes the Turret Assembly and Windage Assembly from the base. The base is left attached to the rifle receiver because it does not require removal in order to clean, lubricate or refurbish. Further disassembly of the base consists of simply removing the two screws holding the Windage Set Indicator. However, if removal of the Base from the Receiver is necessary, it only requires unscrewing the two screws holding it to the receiver.
There are three basic parts to an Elit Diopter. First is the Turret Assembly (A, elevation adjustment), Second the Base (B) and third is the Windage Assembly (C). (Fig. A)
Figure A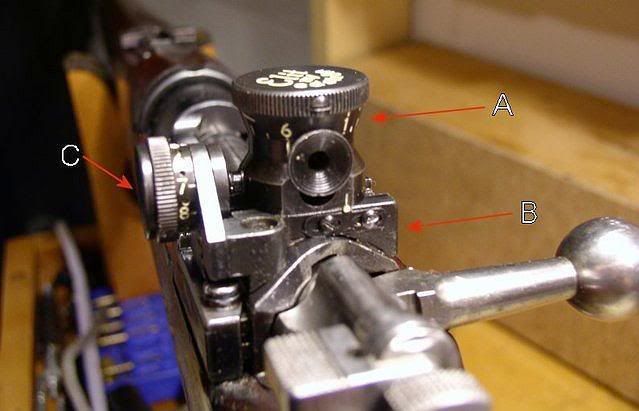 STEP 1: Prepare for disassembly
-Rotate the elevation knob until the diopter is set at its max range (600meters). (Fig. 1)
-Rotate the windage knob until the diopter is as far right as possible (Fig. 1)
Figure 1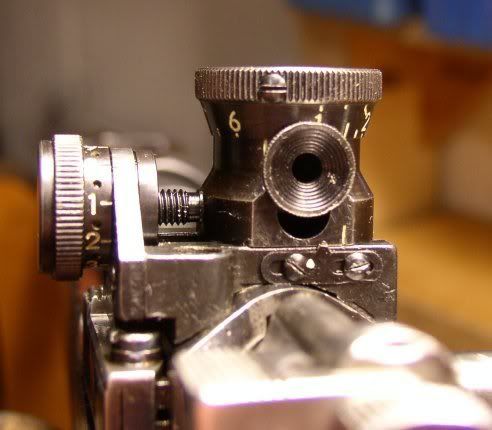 STEP 2: Remove eye piece and diopter insert
-Unscrew Diopter insert (right hand threads) (Fig. 2.a)
-Unscrew Diopter eye piece (LEFT HAND THREADS) (Fig. 2.b)
Figure 2.a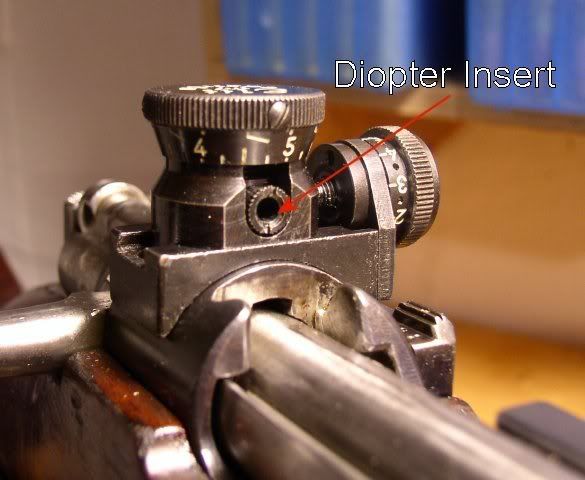 Figure 2.b
STEP 3: Remove Windage Assembly from Base
-Unscrew two screws holding Windage Assembly on base (Fig. 3.a)
Note 1: the screws may stop when they reach the windage knob. If so, simply slide the Turret Assembly left to make more space for the screws to remove from the base (Fig. 3.b)
Figure 3.a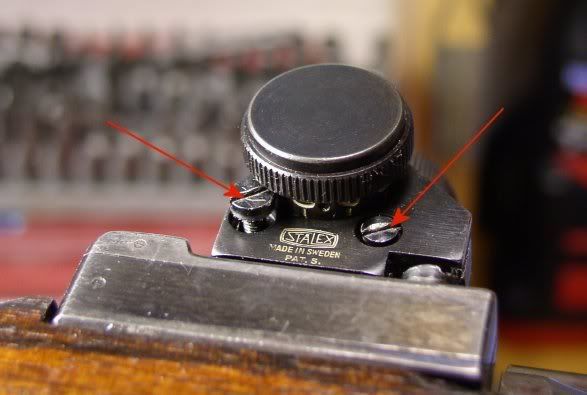 Figure 3.b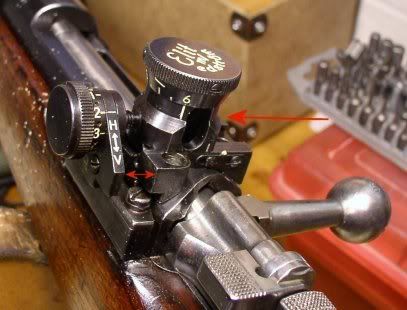 STEP 4: Remove Windage Assembly from Turret Assembly
-Push Turret Assembly further, as in Fig 4 and unscrew Windage Assembly from Turret Assembly
Figure 4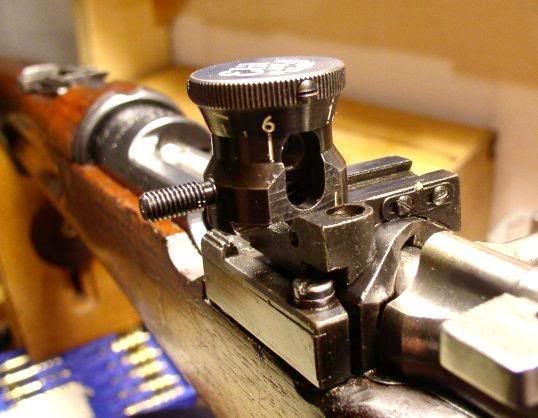 STEP 5: Remove Turret Assembly from Base
-Push Turret Assembly to the left and off the Base (Fig. 5)
Note: notice the ball bearing pressed into the bottom of the Turret Base. Ensure they are there and firmly pressed. Loosing them is not fun!!
Figure 5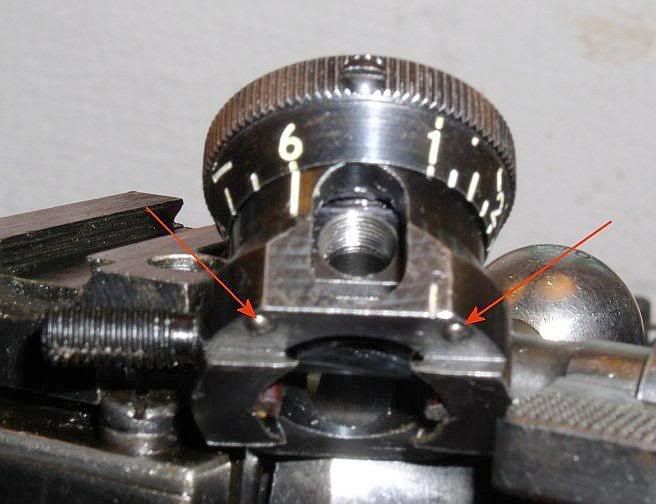 STEP 6: Remove Anti-rotation pins from Turret Assembly
-First, notice the metal flap dangling from the bottom of the Turret Assembly. You may or may not have this. If so, this piece of metal is used to remove the roll pin wedged inside the Diopter Elevator. IT IS NOT NECESSARY (AND HIGHLY RECOMMEND) TO NOT REMOVE THIS METAL PIECE….IGNORE IT (Fig. 6.a and 6.b)
-With the Turret Knob still set at highest range, the Anti-rotation pins will be exposed. Gently pull them out with needle nose pliers (Fig. 6.c and 6.d)
Note: The Anti-rotation pins are made of a material similar to fiberglass or Bakelite. Be careful not to crush, crack or chip them. If made today, these pins would surely be made of nylon or similar. Sometimes the pins are stuck. Going slow is the key here. Soak them with penetrating oil overnight so they will come out easy.
Figure 6.a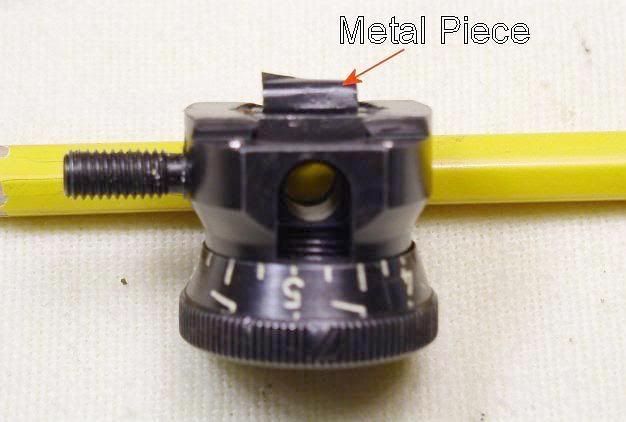 Figure 6.b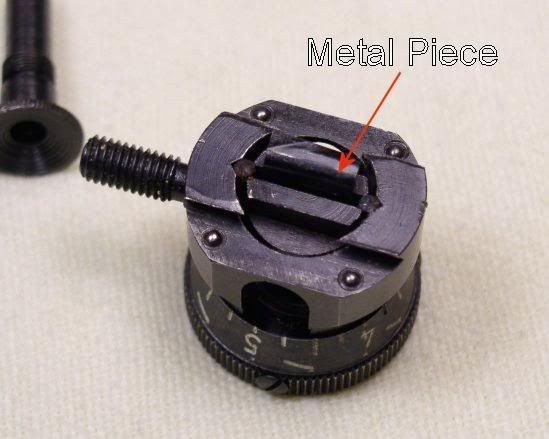 Figure 6.c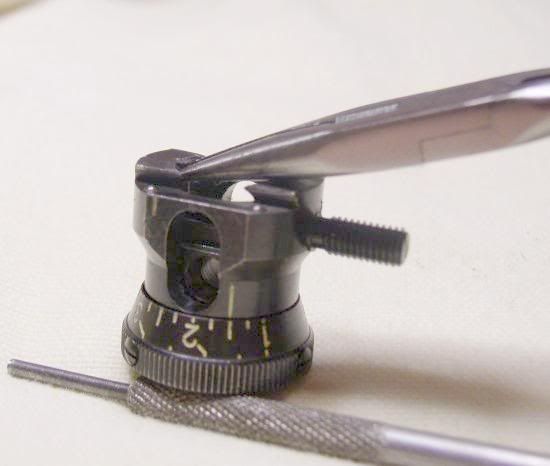 Figure 6.d
STEP 7: RemoveRange Ring from Elevation Knob and Elevation Knob from Turret Assembly Body
-Loosen or unscrew the 3 Set Screws and the Range Ring will separate from Elevation Knob, then unscrew the Elevation Knob from the Turret Assembly Body (LEFT HAND THREADS) and pull off (Fig. 7.a and b)
Figure 7.a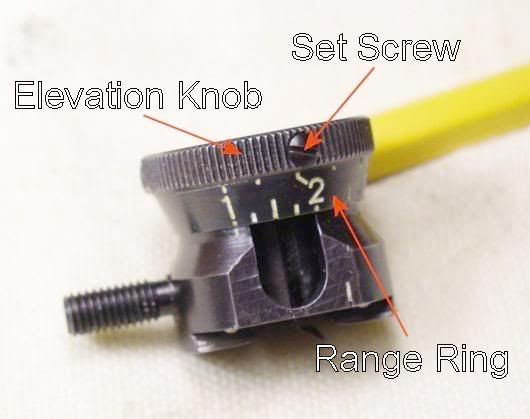 Figure 7.b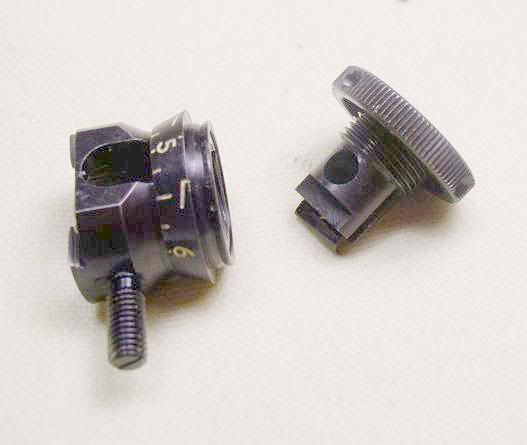 STEP 8: Remove Diopter Elevator and Range Ring from Turret Assembly Body and disassemble completely
-Pull Range Ring from Turret Assembly Body and unscrew Diopter Elevator from Range knob (Fig. 8.a and b)
Note: Caution, under spring tension so don't let it go flying
Figure 8.a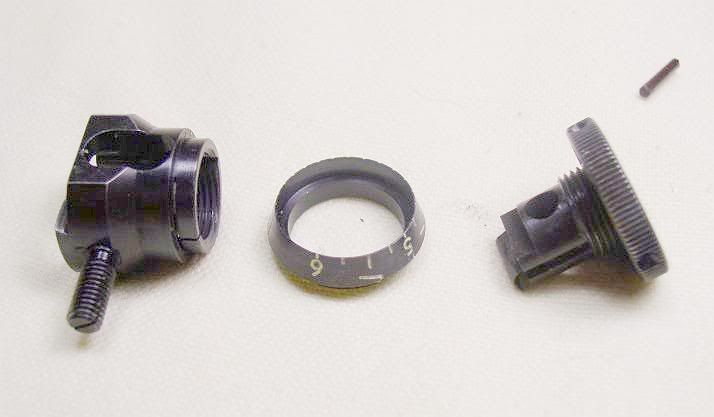 Figure 8.b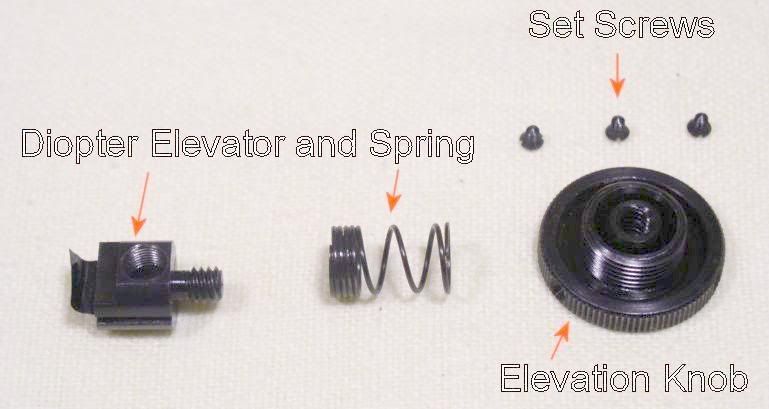 DISSASEMBLY COMPLETE:
Figure 9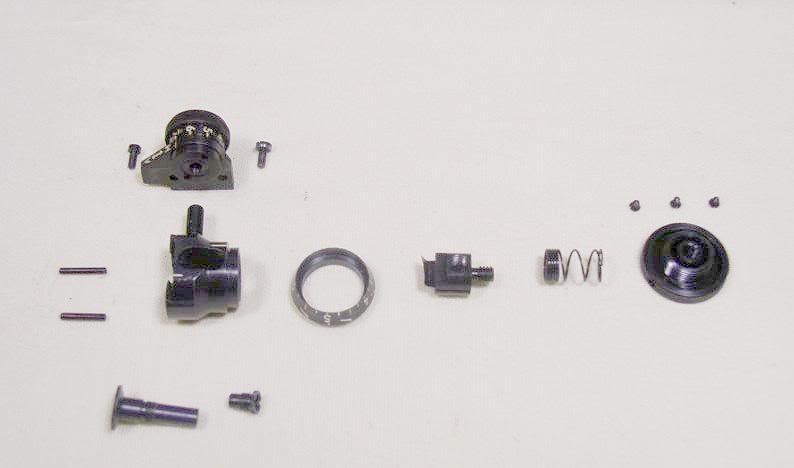 FINAL NOTES:
-Windage Assembly is not easily disassembled further. The rear of the knob screw is peened and would require grinding to remove. (NOT RECOMMENDED) (Fig. 10)
Figure 10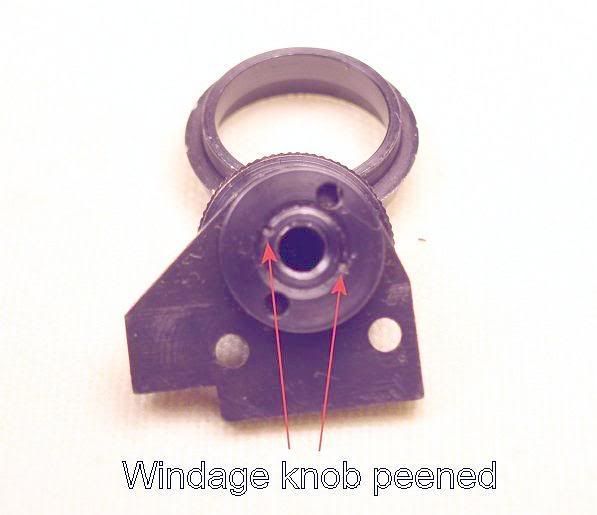 REASSEMBLY NOTES:
-Reassembly is simply the reverse of disassembly with the exception of the following:
-When reassembling the Turret Assembly, first screw the Diopter Elevator (with spring) completely onto the Elevation knob, until it stops (Fig. 11.a)
-Next, screw the Elevation Knob onto Turret Body (LEFT HANDED THREADS) Fig. 11.b
-Note: Take notice of the position of the Diopter Elevator inside the Turret Assembly Body
-Finally rotate Diopter Elevator one complete turn (360 degrees) and continue rotating until as pictured in Fig. 11.c with threads of Diopter Elevator positioned correctly
-Now reinstall Anti-rotation pins (Fig. 11.d)
Figure 11.a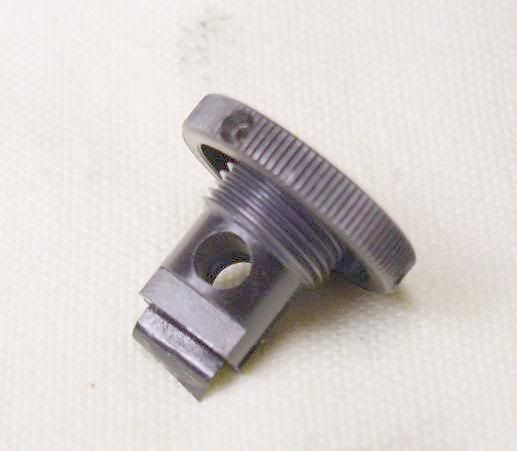 Figure 11.b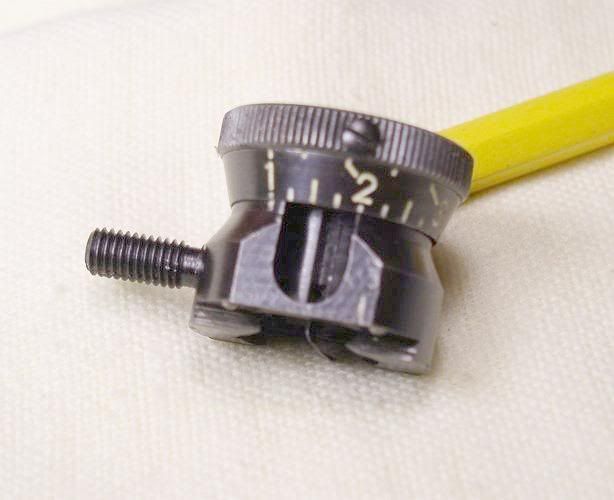 Figure 11.c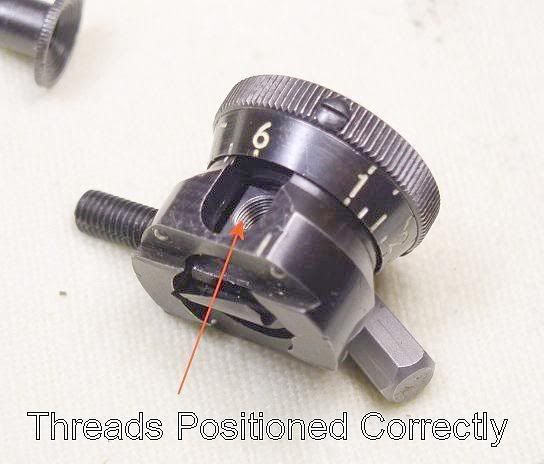 Figure 11.d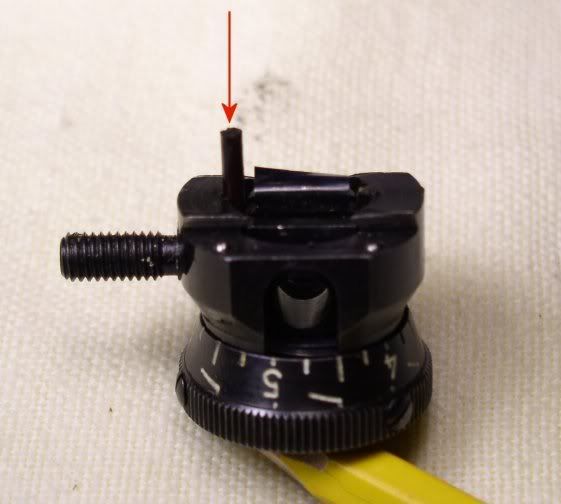 -Ensure Diopter Elevator is at least flush with the bottom of the Turret Body before installing onto Base (Fig. 12)
Note: Preferably unscrew Elevation knob so metal piece is within Turret Body before installing onto Base
Figure 12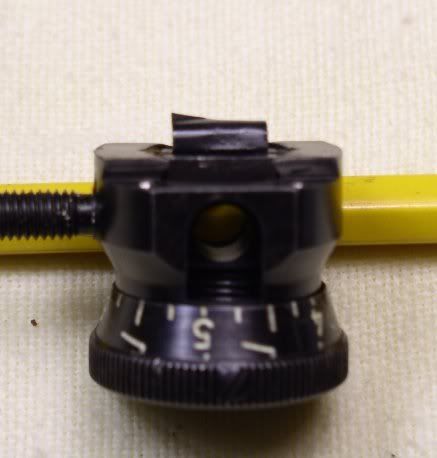 FURTHER DISCUSSION:
-How do you zero this Diopter?
-Is there a pre-positioned "battle sight zero" for this Diopter?
-What are the extended tick marks at the top of the Range Ring for?
-How is the Windage Assembly ring adjusted?
-How do the various Elevation Knobs differ for different velocity rounds (what makes them different)?
-Anyone have a good suggestion for a good, permanent paint to use in the numbers and tick marks?