I just purchased a complete midwest industries ar15 upper from Brownells. The upper was on sale on brownells website and I noticed it didn't have any specs on the barrel. Looking at the midwest industries site the next tier complete upper is a little over $100 more then the complete upper I purchased. The full rifle which has the upper I purchased is $95 cheaper at 1,205 then the next tier complete rifle which is $1300. The standalone midwest industries branded melonite barrel in the upper I purchased is $160, the standalone barrel in the next tier upper is $270. It appears the lower tier upper is cutting the costs on the barrel which is arguably the most important part. I called Midwest industries to ask him what the specs were and the guy I talk to you said he wasn't allowed to tell me who made the barrel. He told me the specs were 1/8 twist, Chrome lined, melonite treated and he didn't have what the barrel was made out of on the screen but he could find out. He put me on hold for 30 seconds and came back and said the barrel was 4150 steel. The barrel in the next tier is made by Criterion with similar specs if what the Midwest Industries employee told me is true(what I mean by that is melonite with chrome seems unlikely?). This is my first AR15 build and I'm going in blind and I really don't wanna buy crap. The first complete upper I tried to purchase was an Aero Percision 223 Wylde upper that Optics Planet had in stock. After I had ordered the upper Optis Planet canceled my order because(I'm assuming they didn't really give me a clear and concise answer to why they cancel the order, they gave me was a form letter from the risk management department stating "local laws")I live in California even though it's not illegal to ship that upper to California even with the flash hider...I checked and Aero Precision ships the exact same upper to California.
If somebody would be so kind as to compare the two uppers in the links in the underlying with your recommendations? The reason why I wanted the aero Percision upper is because the general consensus is online that Aero Percision makes quality products at a reasonable price point. So if anybody has any information or guidance I would appreciate it. Thanks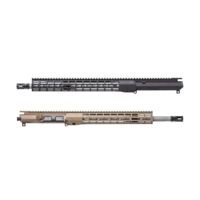 Shop Aero Precision M4E1 Threaded .223 Wylde w/ ATLAS S-ONE Handguard Complete Upper Receiver | Up to 15% Off 4.2 Star Rating on 5 Reviews for Aero Precision M4E1 Threaded .223 Wylde w/...
www.opticsplanet.com
Midwest Industries, Inc. is a U.S. manufacturer of quality tactical rifle accessories for the AR15/M16, AK47/74, Ruger SR-22, Ruger 10/22 and many others.
www.midwestindustriesinc.com