Discussion Starter
·
#1
·
1912 held in Stockholm and Sweden was the top nation in shooting events. Got a little bit surprised to see the rifles used by the "Running Deer" Swedish top shooters. "Running Deer Shooting" was in three events. 1. Single event, single shot at 100 meters (deer visible 4 seconds on 23 meters run) Totaly 10 shots. 2. Single event, double shot. Totaly 20 shots. 3. Team-event (four shooters), single shot. Totaly 40 shots/team.
Here are three shooters in top from single event, single shot (from left): Åke Lundeberg, Sweden, silvermedal. N.Toivonen, Finland , bronzemedal. Alfred Swahn, Sweden, goldmedal.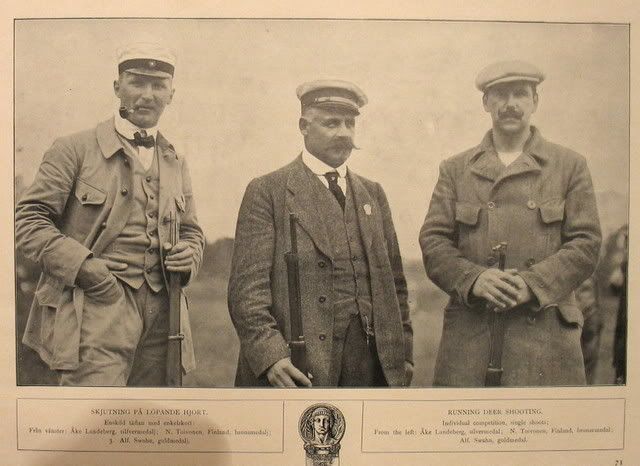 And the Swedish goldmedal-team in Running Deer Team-shooting.
From left: Alfred Swahn, Åke Lundeberg, Oscar Gomer Swahn and P.O.Arvidsson. Guess they are all dressed in their shooting-clothes.

Regards,
ARILAR