Discussion Starter
·
#1
·
Appalchian Ammunition, located in Maine, is a smaller producer of a wide variety of ammunition. I saw they made 9x18 now and I had 2 boxes sent to me. Not many others will because:
- 2 boxes = $63.98
- Shipping = $18.96
- "Handling Fee" = $2
So 2 boxes, sent from Maine to Washington State, cost me $84.94. Sometimes my hobby hurts me.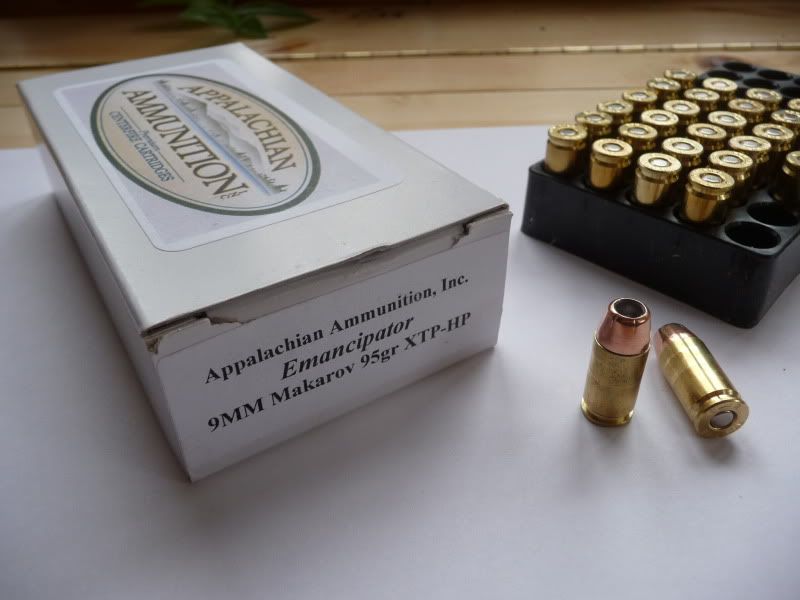 The cartridge is made with Hornady's 95gr XTP-HP bullet and Starline brass. Several other small companies, such as Georgia Arms, Buffalo Bore, Kinematics Research, D&G Reloading, (and of course Hornady) use the same components and it's interesting to compare the OALs and velocities. Appalachian advertises the velocity of this ammunition as 1,022 fps. My measured velocities were slightly, not significantly, less. The round produces a fairly stout recoil and is very accurate.
Appalachian Emancipator 9MM Makarov 95gn XTP-HP
(20 rounds tested)


Manufacturer: Appalachian Ammunition, Industry, Maine

Headstamp: HORNADY 9X18 MAKAROV

Cartridge Case: Brass case, Boxer primed, non-corrosive primer

Bullet: 95gr Hornady XTP, copper coated with flat copper base

Magnetic: No magnetic components


OAL (ins)


Range: 0.966 - 0.969

Avg: 0.967


Velocity (fps)


Range: 973 - 1045

Avg: 1008

ES: 72

SD: 18