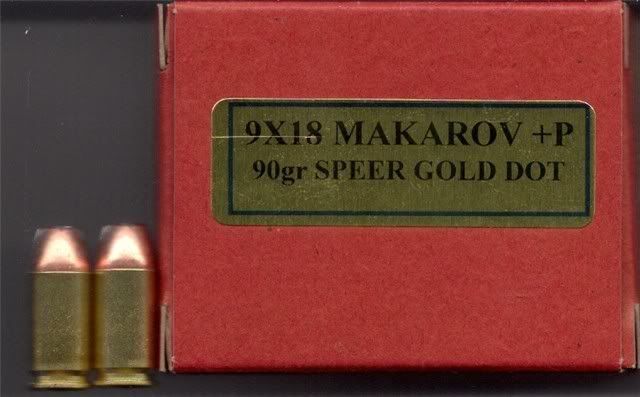 3
Septembarmars sent me these rounds to test. That's very much appreciated!
As close as he and I can figure, these rounds are made by "4H" in Arizona and sold on Gunbroker by "Ammonet". I couldn't find real info on 4H and if anyone can add to who they are I would welcome the information.
Both rounds use common components: Starline brass and either the Hornady 95-gr XTP bullet or the Speer 90-gr GDHP. The velocites and overall lengths can be compared to other smaller ammunition manufacturers who use the same components (see the ammo sticky). Ammonet advertises the Hornady round at 1076 fps and the Speer at 1092 fps (fired "from a Russian Makarov"). My velocities matched their advertised velocites for the Hornady but mine were well below their advertised Speer velocity.
I shot all Speer rounds into a 1-inch hole; the Hornady opened up to 2-inches (benchrest, target 12-feet away). The recoil on the Speer is moderate and on the Hornady fairly stiff, expecially the 2 rounds that shot over 1100 fps. I thought the OALs were a bit sloppy and I wouldn't be satisfied with such a wide range of velocities on the Hornady round had I loaded them.
Septembermars posted these photos of the red Ammonet (or 4H?) 20-round boxes.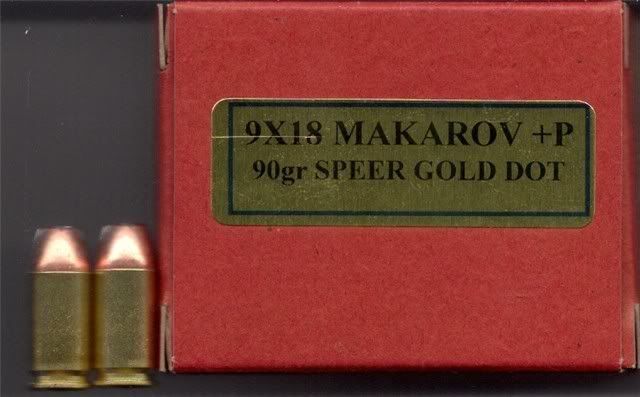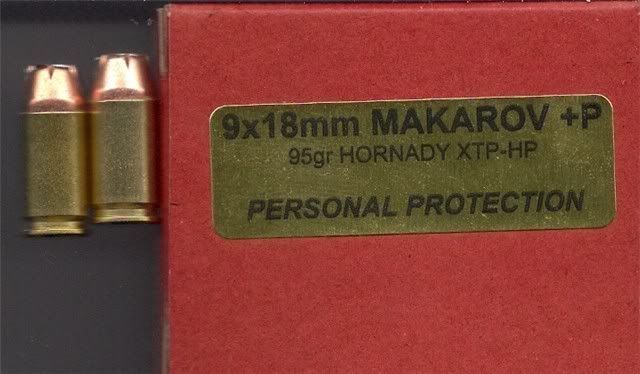 And here's a photo with the Speer on the right. Sorry about the quality; I meant to re-do this, forgot to, and shot all the ammo up. It's hard to find good help.
Ammonet (4H) 95gr XTP-HP
(17 rounds tested)


Manufacturer: 4H in Arizona, sold by Ammonet on Gunbroker

Headstamp: HORNADY 9X18 MAKAROV

Cartridge Case: Brass case, Boxer primed, non-corrosive primer with a red primer seal

Bullet: 95gr Hornady XTP-HP, copper coated with flat copper base

Magnetic: No magnetic components


OAL (ins)


Range: 0.919 - 0.953

Avg: 0.942


Velocity (fps)


Range: 1028 - 1116

Avg: 1064

ES: 88

SD: 25

Ammonet (4H) 90gr Speer GDHP
(11 rounds tested)


Manufacturer: 4H in Arizona, sold by Ammonet on Gunbroker

Headstamp: HORNADY 9X18 MAKAROV

Cartridge Case: Brass case, Boxer primed, non-corrosive primer

Bullet: 90gr Speer Gold Dot Hollowpoint (GDHP), copper coated, concave base

Magnetic: No magnetic components


OAL (ins)


Range: 0.958 - 0.969

Avg: 0.964


Velocity (fps)


Range: 937 - 1035

Avg: 1000

ES: 98

SD: 27