Discussion Starter
·
#241
·
Dieppe Raid, 19 August 1942, Part 158
The Japanese invasion of the Philippines started on 8 December 1941, ten hours after the attack on Pearl Harbor. Under the pressure of superior numbers, the defending US forces withdrew to the Bataan Peninsula and to the island of Corregidor at the entrance to Manila Bay.
3 April 1942 on
Bataan
the entire
Orion-Bagac defence line
was subjected to incessant bombings by 100 aircraft and artillery bombardment by 300 artillery pieces from 09:00 to 15:00, which turned the Mount Samat stronghold into an inferno. Thereafter, over the course of the next three days (Good Friday to Easter Sunday 1942), the Japanese 65th Independent Mixed Infantry Brigade (C/O Lieutenant-General Akira Nara 奈良晃)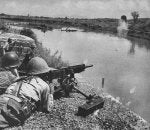 and
4th Division
(C/O
Lieutenant-General Kitano Kenzo
北野憲造) spearheaded the main attack at the left flank of II Corps. Everywhere along the line,
the American and Filipino defenders were driven back by
Japanese tanks and infantry
.