Discussion Starter
·
#1
·
1/2 way home.....
This trip started a couple weeeks ago, with the wife, Tlinkett and I heading to Deering, with a bit of some adventuresome rideing, where He and the Wife almost caught a 8 foot long Oogruk'Bearded Seal' on the ice, but it got to his hole, and we though gone for good...... while we marveld at his size and his hole, he came up a couple times for breath and a good look at all of us. It would have been an easy catch, but for lack of a Harpoon or hook, there was no way we could have hauled up the Huge bag of Blubber, so we just smiled back at him. Then we had some seriuos trouble with me ride eating glycol....and on we rode, stopping, cooling adding coolant till we were makeing our own with a pan, snow and torch......later we encounterd a FRESH Polar Bear Kill with blood, bits and prints strewn about ,(I was too stupid to take a picture) and this on a foggy trip acros the ocean, 'till we hit the coast a Point away from the one we wanted and trail choked with Muskoxen was our final look at wild beasts before we arrived, towing my ride, and both sleds 6 miles outta town.
A day later and a rebuild, we had to replave the engine with my sons spare engine, as there is no substitute for a base gasket that blew, except factory made. Just the next morning, as we finnished the ride, a change of plans was apon us, and I rode Tlinkett to Kotzebue to catch a jet due to a real need at home.
The ride back up to Kotz was a 90 mile treck, but with a fat Caribou to Tlinkett's credit, almost dead on the Arctic CircleThe ride I was on wasnt reliable,(I dont know the type at all) so I waited an extra day and my friend Brett was set to go, and that we did.........the Weather was perfect, the snow machiine co-operating, and we blasted a couple Arctic Jacks, and came in ready to go after long nights nap.
The ride south to Deering city was uneventfull, and we arrived in good order, but with suspiciously low clouds that obscured anything above 300 feet....not good for mountain hunting......
Vince would likely remeber how good the hunting is from th oldest son's window, and we watched him ,rifle in hand, and his huntin'n partner Pat with the harpoon, go get a nice fat delicious Ring Seal that was sleeping close on the Ocean....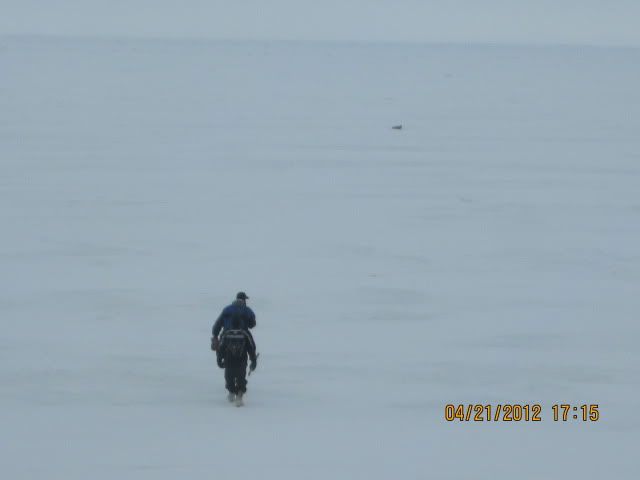 With 375,000 Caribou moveing through, we never were out of sight of Caribou................
Seen plenty of Wolves looking "Fuzzy" now, so we passed them all up, although a Black Monster was very tempting, still I was a week too far, and Fur is over 'cpt the water fur......
Caught up on the Caribou Meats situation, shot up the local Jack Rabbit population and returnned to Deering after a couple hours, due to a bad clutch on one ride and blowing clouds comming on in as the afternoon progressed, covering the mountains we wished to hunt......but the Coast was clear....litterally ~~LOL!!~~
The next morning, things we fine, 'cept the weather......and we waited, and waited and waited..~~LOL!!~~we blew Fri, Sat, Sunday untill Monday morning, and we were unleashed .
We came across several BrownBears, though not as Fat as I want, so we drove on, and they live. Ill have a fat one or wait till next Spring and although Brett settled in on an 8-1/2 foot BrownBear, it wasnt very fat...healthy, but burning calories and looking for munchies...........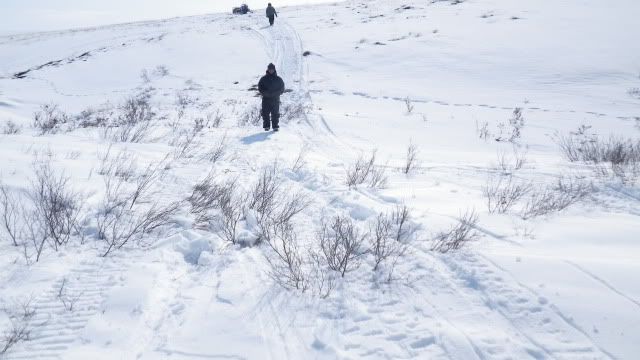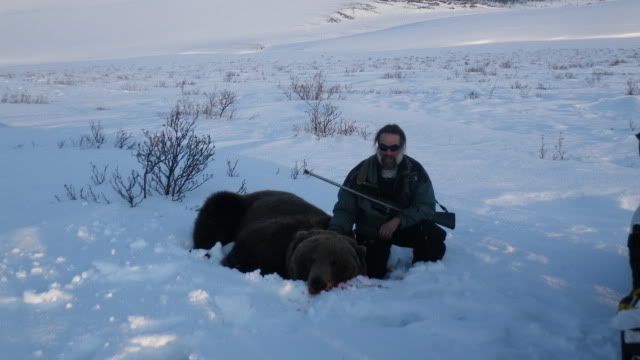 My son made a load with 4 Caribou and went to his home , his partners doing as well .The time for drying meats in the breeze and sunshine, and no flys out, is now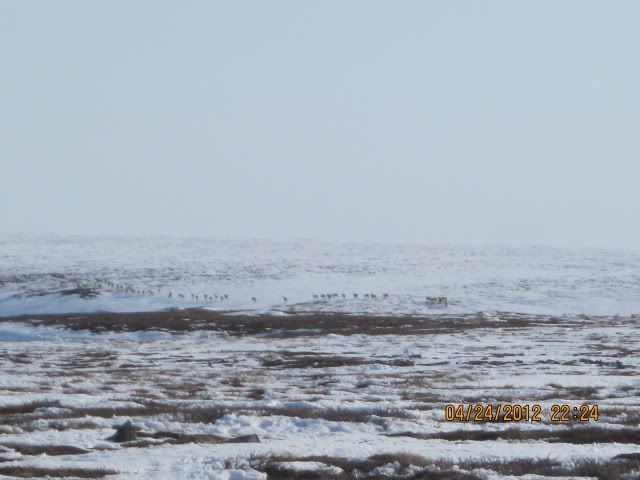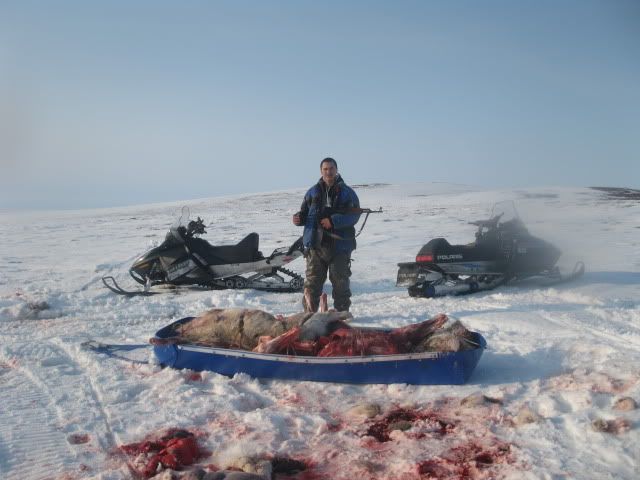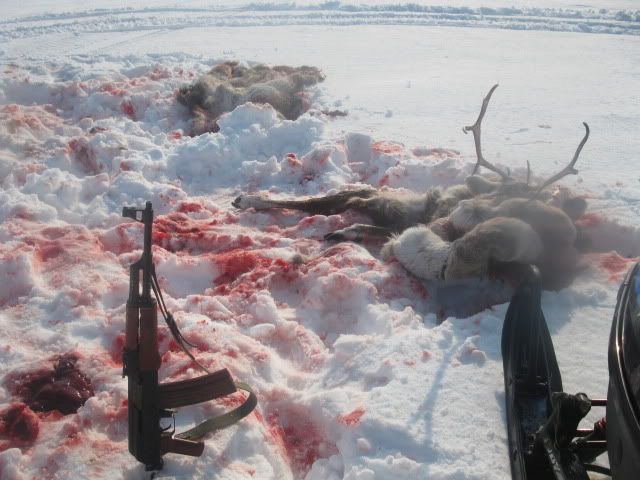 Talked with fellow Hunters, who were rideing for Caribou and opportunity, too..........T.R., the fella on the far right scored the first Goose of the season yesterday Lucky ,Lucky,Lucky...
Now theres tomarrow, or the net day, depending on weather, for repairs on the ride,as both my ski's are toast after a trail through some vlcanic rocks, and a day off for my sunburn and my frost bites.......